Manufacturers can overcome key Industry 4.0 and smart factory communication challenges from data integration to synchronization, edge connectivity, and system interoperability with Analog Devices' (ADI) ADIN1300 low-power, single port Ethernet transceiver.
The ADIN1300 has power and latency specifications primarily designed for time-critical industrial Ethernet applications up to Gigabit speeds. As industrial automation increases the adoption of Ethernet and pushes the boundaries of data rates, the ADIN1300 is designed to operate reliably in harsh industrial conditions over extended ambient temperature ranges. ADIN1300 is the latest technology developed for the ADI Chronous Ethernet portfolio, ADI's newly expanded portfolio of industrial Ethernet solutions.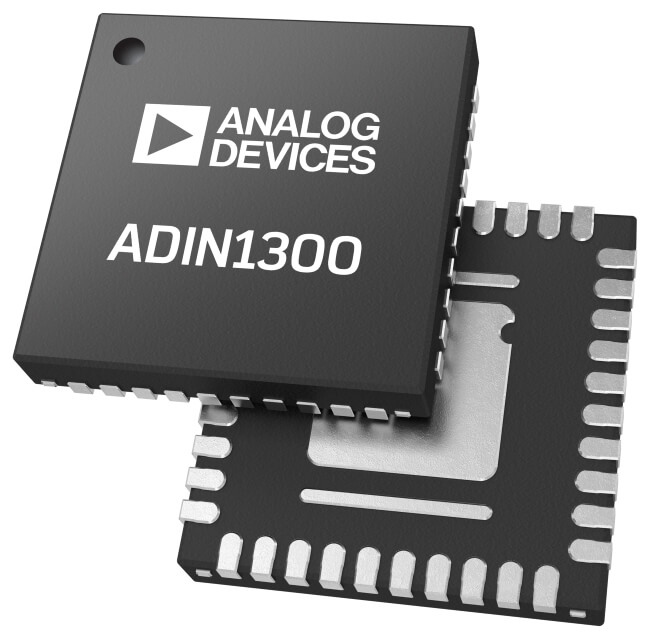 Two ADIN1300 chips, which can be the heart of the Industry 4.0 smart factory.  
Credit: Analog Devices Inc
"Within industrial environments, even one millisecond of communications timing being off can produce a negative, expensive impact on quality, throughput, and efficiency for manufacturers," said ADI's industrial automation business unit general manager, Brendan O'Dowd. Analog Devices exhibited the ADIN1300 and other industrial Ethernet solutions at the Smart Productions Solutions exhibition from 26–28 November in Nuremberg, Germany.
Internet of Things Features
A single port Ethernet transceiver, the ADIN1300, is for industrial Ethernet applications such as motion control, factory automation, building automation, test and measurement, and industrial Internet of Things. To achieve this the ADIN1300 offers 330 milliWatt power consumption, enables start of frame detection for IEEE 1588 time stamp support, and has met the following electromagnetic compatibility test standards, IEC 61000-4-5 surge (±4 kV); IEC 61000-4-4 electrical fast transient (EFT) (±4 kV); IEC 61000-4-2 ESD (±6 kV contact discharge); IEC 61000-4-6 conducted immunity (10 V); EN55032 radiated emissions (Class A); EN55032 conducted emissions (Class A).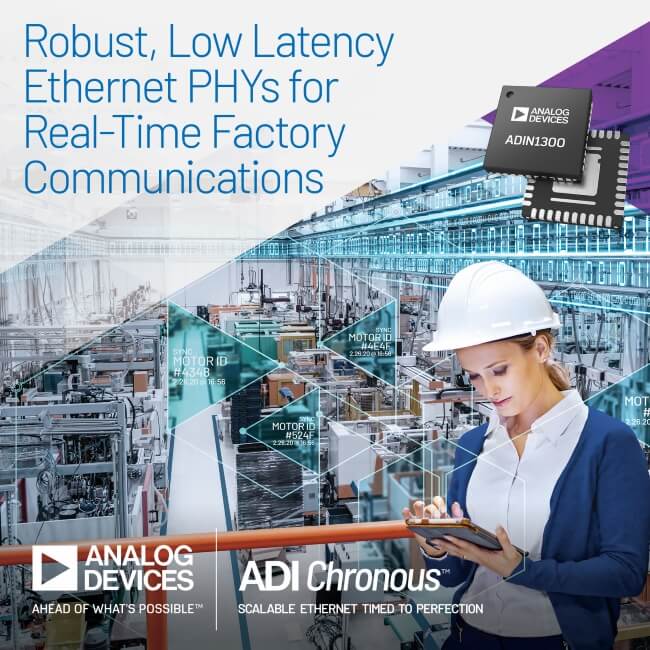 The Industry 4.0 factory of the future will be enabled by the ADIN1200.
Credit: Analog Devices Inc
"ADIN1300 ensures real-time, robust industrial communications by targeting important challenges of deploying industrial Ethernet connectivity with low latency in a smaller package size to reduce industrial Ethernet network cycle times," O'Dowd explained. "We are also excited to unveil our updated suite of ADI Chronous Ethernet solutions to set new standards for industrial Ethernet speed, scalability, and range of multi-protocol support, all backed by ADI's commitment to long life cycle product availability and support."
The ADI Chronous Ethernet solutions include the ADIN1300's sister product, the ADIN1200 which is a low-power single port robust Ethernet PHY for real-time industrial Ethernet networks. The ADI Chronous Ethernet solutions also encompass a range of advanced industrial Ethernet technologies. These technologies include real-time Ethernet switches, PHY transceivers and protocol processing to complete network interface products.