The use of facial recognition and other biometric identification that is becoming a standard feature in smartphones is on the verge of taking off in smartwatches. Many of the major consumer electronics manufacturers led by Apple and Samsung are competing on biometric technology for their smartwatches. Indeed, at the end of last year, Samsung filed a patent application in the US and Korea for a new hybrid smartwatch featuring an in-display biometric fingerprint or iris sensor.
One development is to use smartwatches as a platform for mobile biometrics including gait-based biometric identification. Smartwatches are said to have several advantages over smartphones for this type of biometric identification. One major advantage is that users almost always wear their watch on the same wrist. This tends to provide more information about a user's movements than a smartphone located in the pocket or handbag. 
Apple Smartwatch to Recognise the User's Wrist
In September, Reuters reported that Apple has been granted a patent for technology that would let its smartwatches recognise a user by their wrist. This will be an advance on the abilities of its current smartwatches, allowing them to rival the abilities of Apple's smartphones. These can already unlock themselves with a single fingerprint or image of someone's face. Apple's smartwatches may soon be able to operate by recognising a user's skin and arm hair.
Osram Announces New Smartwatch Facial Recognition Technology
But it is the developments by the Munich-based Osram Opto Semiconductors of a new pair of miniaturised infrared LED solutions that could be the key driver that kickstarts the commercial launch of smartwatches. In September, Osram announced the availability of its new infrared LEDs (IREDs) SFH 4170S and SFH 4180S, the two smallest biometric identification products to date. The company claims that it will have the ability to enable 2D facial recognition in smartwatches. Arne Fleißner, Product Manager, Osram Opto Semiconductors said that the two infrared LEDs, or 'IREDs', require just half the space of comparable products on the market.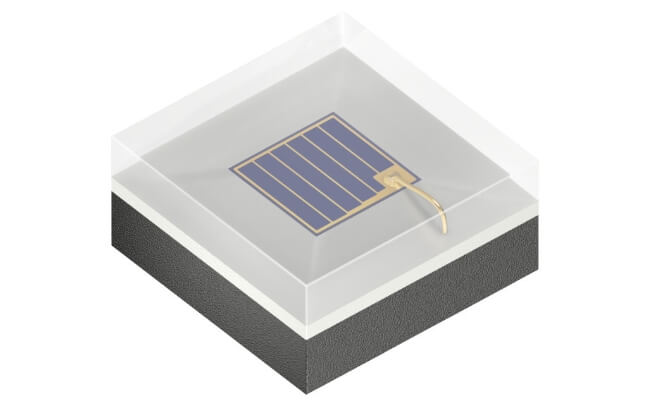 The SFH 4170S and SFH 4180S in the Oslon P1616 package are the smallest products for biometric identification to date and are particularly suitable for 2D face recognition.
Credit: Osram
The SFH 4170S is the thinner of the two IREDs at 850 nm while the thicker SFH 4180S measures 940 nm. Power consumption for both IREDs comes in at 1150 mW at 1 A. "With our two new IREDs, we are making space-saving integration into our customers' end devices much easier and are thus also helping to protect users' sensitive data," said Fleißner. The IREDs are a significant development and allows Osram to leapfrog Apple, which has yet to incorporate its more sophisticated 3D Face ID system into its own smartwatch devices.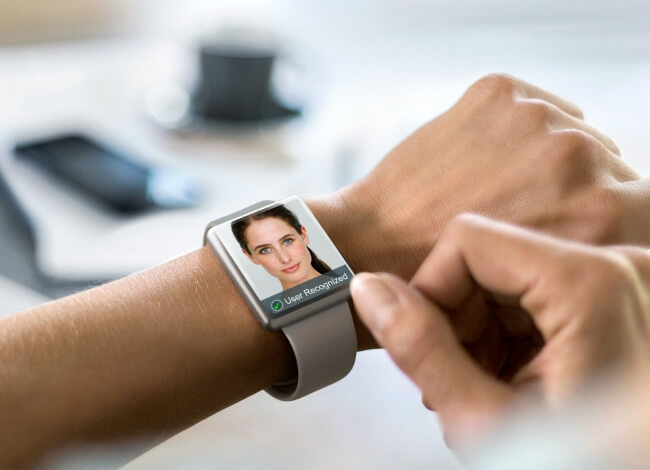 The extremely compact dimensions of the new infrared LEDs pay off, especially when used in smartwatches. 
Credit: Osram
Google Pixel Watch with a Built-In Camera
It was hinted that Google would launch its flagship smartwatch that will use the Google Pixel 4 and Pixel4 XL camera to facilitate facial recognition. It will use a rotating bezel around the round face to handle navigation in the smartwatch operating system. The long anticipated 'pixel watch' was rumoured to launch last year alongside the Pixel 3, Pixel 3 XL, following the filing of the patent by Google in October 2017. However, it didn't materialise and the release was instead pushed back a year.
FiDELYS Iris Recognition Smartwatch
An earlier example of a smartwatch using iris recognition technology is the FiDLEYS Smartwatch that was launched in 2014. The watch contains a camera and utilises IriTech's state-of-the-art iris biometrics technology that eliminates password complexity and the burden of remembering different password chains. The identification process is fast as capturing and verification takes less than two seconds. The watch can be used to secure access to personal/corporate networks and validate and protect the user's identity. In addition to the control of access to a premise, the smartwatch can be used for car locks, cloud application and contactless payments.
Chinese Rolls Back on Smartwatch Snooping
But while the technology that enables users to unlock their phones and watches via biometrics is broadly welcomed, it does have the ability to be tapped into by an authoritarian regime that wants to keep watch on its citizens. The Chinese government is currently engaged in mass surveillance of what it hopes will eventually be its entire population and its facial recognition technology is unmatched. However, earlier this year after protests by tens of thousands of people on 'Weibo', Chinese local authorities in Nanjing cancelled an initiative to monitor city workers using wearable technology in smartwatches.
The watches that are supplied to cleaners in the city alert supervisors in a control room if the workers are idle for more than 20 minutes. Line managers also receive live phone notifications if staff leave their assigned area or break other work rules. Over 30,000 people shared the story on Weibo, with many comparing the smartwatch to electronic tagging for prisoners. But Nanjing isn't the only city in China that keeps an electronic eye on road cleaners. Chengdu, Hangzhou, Guangzhou and Qingdao have also asked them to wear similar monitoring devices.
What Does the Future Hold for Facial Recognition in Smartwatches?
New research suggests that the facial recognition market could reach $8bn by 2022. This would represent a CAGR of 19.68%. The Iris recognition market, meanwhile, looks set to double to $1bn by 2022 from its $525 million approximate 2016 valuation. Demand for iris recognition enabled smartwatches will be an important component of this market going forward.