'SmartVIZ', a microLED project funded by the Bavarian State Ministry for Economic Affairs, Regional Development and Energy, is well underway with the first demonstration scheduled to be presented in October 2021. MicroLEDs, also known as mLED or µLED, are an emerging flat panel display technology. It promises a lighting solution that is up to 30 times brighter, as well as being slimmer, more robust and more efficient than LCD or OLED. An early commercial application is likely to be the automotive interior market. Project partners, led by Osram Opto Semiconductors, include ASM AMICRA and Fraunhofer IISB.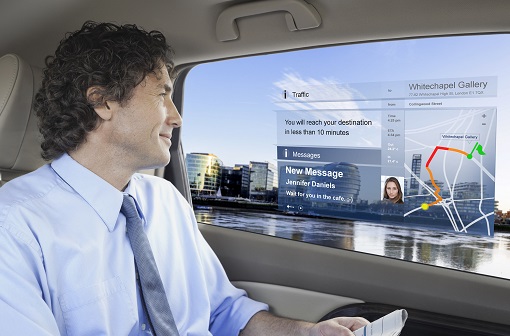 The consortium's work is focused on three key visulisation technologies: the design of efficient μLED light sources as well as their handling and assembly; the use of substrates based on indium-gallium-zinc-oxide (IGZO-TFT) transparent substrates for pixel control; and the development of a process to rapidly transfer large quantities of μLED chips by means of automated parallel assembly from the source wafer to the backplane driver electronics.
Hubert Halbritter, project manager SmartVIZ at Osram explained, "We are exploring μLEDs efficient, miniaturized image pixels with high luminance for new, disruptive μLED-based visualization solutions. Together with our partners, we have set ourselves the goal of achieving decisive influence and technology leadership in one of the key technologies of the future".
MicroLED TV 'breakthrough'
Although microLEDs have hitherto targeted small, low-energy devices such as smart watches and smart phones, there is a gradual move towards using microLEDs in big screens. In April, The Picosun Group the Finnish headquartered supplier of high quality Atomic Layer Deposition (ALD) thin film coating technology for semiconductor and other industries, announced that it had made a key breakthrough in the development of 'next generation' microLED panels for TVs.
MicroLED TVs avoid the image retention that affects a small percentage of OLED panels. However, there are still hurdles to navigate. These include the issue of damaging the pixels during the manufacturing process that can result in the loss of light intensity. The Picosun solution involves using its ALD (Atomic Layer Deposition) thin film coating technology. This not only appears to fix the brightness, but boosts it further with tests showing a 143.7% increase.
Edwin Wu, CEO of Picosun Asia Pte. Ltd, said "we are glad that our ALD solutions have enabled this impressive performance boost to their microLEDs. MicroLED technology has immense potential to disrupt the solid state lighting market [OLED and LEDs] and our Asian customers, both in industries and R&D, will surely lead the forefront of this development."
Commercialisation – the next step forward
ALD is just one of a number of different technologies that are under active research. And it is hoped that some of these could be the breakthrough needed to overcome some of the residual technological and production barriers that currently hinder the move to full commercial production of microLEDs. Among these technologies is the chip bonding of microLED chips onto a substrate. This is considered to be essential for large displays. Wafer production is another key technology. Samsung, LG, Sony, Sharp, Panasonic are at the forefront of microLED display panel technology and will be the main supplier companies by 2025.
Samsung
At this year's CES, Samsung demonstrated its two new microLED TVs: a 75 inch microLED TV made from tiled displays and the largest Wall microLED TV model, at 219 inches. No further details were announced. However, microLED TVs are expected to rapidly become the company's flagship TV technology. Samsung already has a long term strategic agreement with China's largest LED producer San'an Optroelectronics to co-develop microLED chips for the TVs. Samsung pre-paid San'an $16.83 million to secure the chips and mass production is expected in three years.
Apple
Meanwhile, Apple has begun in-house development of microLED screens of its own. This is purportedly taking place at a secret engineering and manufacturing facility located 15 minutes from Apple Park and staffed by about 300 engineers. The technology is expected to debut in future devices as a potential replacement for the OLED panels that are supplied by Samsung. Currently, Apple uses Samsung technology in the OLED panel for iPhone X, and LG technology for Apple Watch. Apple first showed an interest in microLED displays in 2014 with its purchase of segment specialist LuxVue. There were rumours following the acquisition that microLED would arrive in a 2017 Apple Watch model. But the timeline has since been pushed back.
Outlook
New market research forecasts a rapid and sustained rise in the microLED market in the coming years, from its estimated $600 million in 2019 to $20.50 billion by 2025. This would indicate an impressive CAGR of 80.1%. Growth is being led by increasing demand from NTE (AR/VR) devices as well as from smartwatches and mobile devices.