Autonomous self driving cars, enabled by Light Detection and Ranging (LiDAR) technology, are fast becoming a reality on many roads in the developed world. LiDAR acts as the 'eye' of self-driving vehicles by providing them with a 360-degree view of its surroundings. The LiDAR system continuously rotates sending thousands of laser pulses every second. These pulses then collide with any surrounding objects and reflect back. The reflections are used to create a 3D point cloud, which an onboard computer then uses to make an animated 3D representation. LiDAR is being incorporated into a new development called Pre-Scan whereby a laser scans the road surface to enable the wheel's individual suspension to be adjusted. In the US, self-driving cars have already hit the roads of California, Texas, Arizona, Washington, Pennsylvania, Michigan although their mobility is restricted to specific test areas and driving conditions.
Osram's New Infrared Laser for LiDAR
In February the Munich headquartered high-tech company, Osram Opto Semiconductors GmbH,  presented its new infrared laser for LiDAR near-field applications, the SPL DP90_3, that it says could bring autonomous driving one step closer.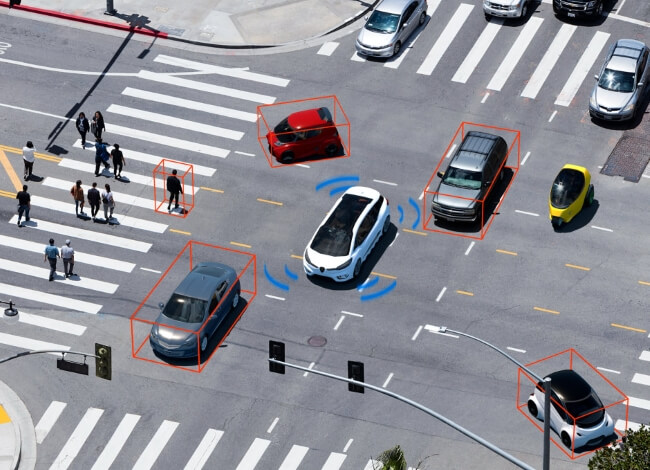 SPL DP90_3 is the latest addition to Osram's comprehensive photonics portfolio for LiDAR applications. 
Credit: Osram Opto Semiconductors
The component was specially developed for high-resolution near-field detection in LiDAR systems. It introduces a new single-channel pulse laser that is characterized above all by its improved beam quality and its particularly compact dimensions. The space-saving footprint of just 0.3 mm x 0.6 mm allows system manufacturers to incorporate extremely compact designs. "With an optical output of 65 watts at 20 A, the component not only has an absolutely unique selling point on the market but is also ideal for capturing the immediate vehicle environment and thus ensures high-resolution images for the downstream systems," said the company.
Ouster's New Ultra-Aide View OS0 LiDAR Sensor
In January, the San Francisco headquartered builder of high-resolution LiDAR sensors for autonomous vehicles, robotics and drones, Ouster Inc., introduced two new high-resolution digital LiDAR sensors: the ultra-wide field of view OS0-128; and the long-range OS2-128. Both sensors were on display at CES 2020 and are currently being shipped to customers. "With Ouster's full range of 128-channel sensors, we have a complete high-resolution sensor suite for every application, and for short-range applications, the OS0-128 is in a class of its own," said Angus Pacala, CEO and co-founder of Ouster. 
The OS0-128 was designed for the rigours of commercial deployment. And it has already secured multiple designs wins from 'robotaxi' and autonomous trucking OEM customers. The new OS0 series and expanded 128-channel sensors continues Ouster's mission of building the most reliable sensors with the best resolution at pricing to enable scaled commercial deployment. "Dependable, high-resolution sensors are critical to bringing safe self-driving technology to market. The Ouster OS2 is a solid solution that will augment our long-range perception offerings thanks to its resolution and reliability," said Gary Hicok, Senior Vice President of Automotive Hardware and Systems at NVIDIA.
Mapix Technologies' LiDAR Portfolio with LeddarTech LiDAR Sensors
Last December, Mapix Technologies the experts in LiDAR solutions and system integration in the fields of mapping, autonomous vehicles, industrial and robotics, became the module distribution partner for LeddarTech's LiDAR technology in some key European markets. Its LiDAR modules are described as, "ideal for applications where close range object detection and avoidance is critical, such as in autonomous shuttles, robotaxis, delivery vehicles, traffic monitoring, security systems and robotics." LeddarTech's sensor suite includes 2D and 3D flash LiDAR. These illuminate the field of view in a single pulse from one light source without any moving parts. It also means there are no dead zones in the illuminated field of view, ensuring a high probability that even the smallest objects are detected. Emma Thomas, Mapix technologies Strategic Director said, "LeddarTech complements our existing range of LiDAR sensors perfectly. Both Mapix and LeddarTech have over ten years' experience with LiDAR, so our experience is well proven."
Self Driving Jaguar uses Waymo Technology
The autonomous car company Waymo, a Google sibling and part of Alphabet, has published an explainer about the newest version of the sensors on some of its vehicles. Waymo is known for its self-driving Chrysler Pacifica minivans but its technology is now used on the electric Jaguar I-Paces. The vehicles sport 29 cameras apiece, located in the front and back, sides, and top of the vehicle. Some of these are capable of spotting stop signs from more than 1,640 feet in the distance, according to Satish Jeyachandran, Waymo's head of hardware. In the Waymo cars, the company has deployed what it calls an "imaging radar system" to see around it and determine if things are in motion.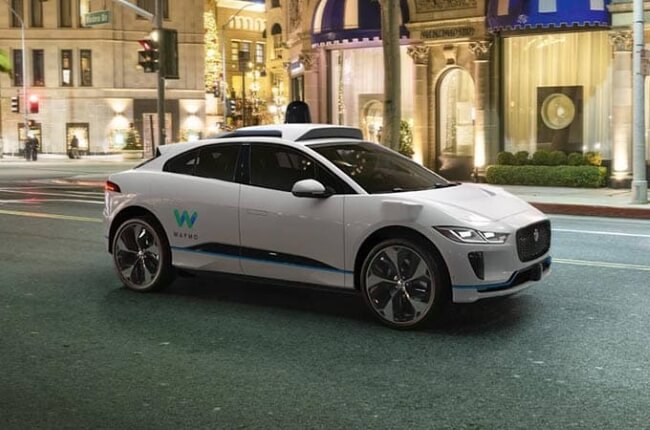 Credit: Jaguar
Outlook
The French-based market research firm Yole Développement expects the market for autonomous-vehicle LiDAR to reach $6 billion by 2024, having achieved a CAGR of 64% from 2018 and 2024. This growth will serve both the robotaxi segment and the ADAS vehicle segment. An estimated 85 companies are developing automotive-grade LiDAR products and many different types of sensors could yet emerge in the near future.