As the world inexorably moves towards adopting the Industrial internet of things (IIoT) and 5G technology, brand new cable networks will be required for enhanced connectivity. Currently, the existing 4-pair Ethernet cabling that is commonly in use is cumbersome. And installing more Category 6 cable (Cat 6), a standardized twisted pair cable for Ethernet and other network physical layers would exacerbate this issue due to the added size and weight. So, a move towards Single-Pair Ethernet (SPE), the infrastructure basis that makes IIoT and Industry 4.0 possible, is seen as crucial for the much anticipated interconnected future.
An advantage of SPE over 4-pair cabling is that it shrinks the cabling size and weight to 1/4 of a typical CAT6 cable. It is also cheaper to purchase and install. A further benefit with single-pair Ethernet is standardisation to one network protocol. Potential uses for SPE technology are plentiful. In manufacturing plants, it can be used to network automation and process control systems. SPE can also be deployed for physical security door controllers, surveillance cameras, motion detectors, smart lighting, building or indeed city-wide automation and elevator control systems. However, as of now, the options to deploy SPE are limited as most Ethernet-based IoT devices still use standard 4-pair Ethernet for connectivity.
Open Partner Network for Industrial Single-Pair Ethernet
In order to promote SPE, an association of technology leaders has come together to form the SPE Network. Their aim is to develop what they describe as "future-proof connectivity for industry and IT" and to design an SPE Ecosystem. At a German trade fair in late November, the original SPE Network partners: Harting Technology Group, TE Connectivity and Hirose were joined by Würth Elektronik, Leoni, Murrelektronik and Softing IT Networks. The software developer PerFact is also working in close cooperation with the partners.
The aim of the network is to provide transparency and clear recommendations for the development of future IIoT applications. At the same time, it seeks to be the central information and exchange platform for interested parties. The T1 Industrial interface, IEEE 802.3cg, is being promoted as the uniform Media Depended Interface (MDI). Philip Harting, Chief Executive Officer of the Harting Technology Group commented, "The digital transformation of our industrial world requires consistent networking through hardware and software. In cooperation with PerFact, we are convinced that we will significantly expand our software competencies around our MICA ® and open up new market opportunities."
Standardisation is The Key 
The new SPE technology will connect devices at 10 Megabits per second up to at least 1,000 meters. It also seeks to offer the option of Power over Data Lines technology (PoDL) for remote power for use in hazardous environments. In a white paper Belden Inc., the US manufacturer of networking, connectivity, and cable products said, "Single Pair Ethernet in combination with Time-Sensitive Networking and Power over Data Lines (PoDL) enables an end-to-end Ethernet network from the sensor to the cloud and will be used anywhere where space is limited and the weight of cables and components plays a major role." It continued, "One lighter, thinner cable that is still capable of PoDL and that will have a signal and power reach up to 1000 meters is arriving now. This will be one cable and one network type that any sensor or actuator can get power from, and any sensor or actuator can talk to."
SPE's Limitations
However, SPE isn't the perfect solution for every application as minimising the cabling has a limiting effect on data rate and range. Indeed, Jonas Diekmann, technical editor at Harting notes that SPE will not replace the eight-wire Ethernet infrastructure that is now in place in many applications. Instead, it will complement existing installations as new devices join existing systems. "A large number of new products will gradually incorporate the new possibilities of SPE. These will include new, smaller end devices and more powerful sensors, but also completely new infrastructure," he said, noting that a common misunderstanding about SPE technology is the idea of cable sharing. "It makes more sense to replace and technically upgrade the field level by switching BUS applications to SPE."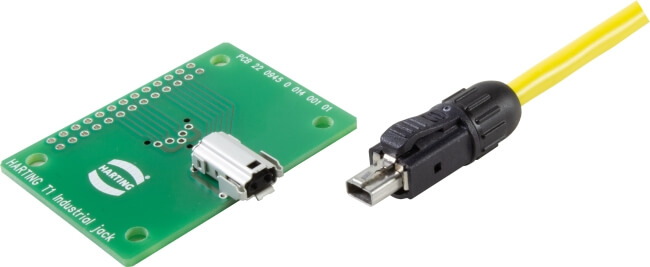 Single Pair Ethernet
Image Source: Harting
"The purpose of SPE is not to define new higher transmission speeds or distances; rather, it is to form the framework for standardizing reduced amounts of cabling for applications. This reduced cabling brings completely new areas of application into focus," said Torsten Janwlecke, president of the business area device connectors at Phoenix Contact one of the companies involved in the early development of the SPE standard and compatible products, in addition to the seven companies in the SPE Industrial Partner Network.
Outlook
SPE-capable devices will soon begin rolling out to the manufacturing and enterprise markets. In addition, SPE can be expected to improve over time from a performance standpoint while maintaining the 1KM maximum distance. Although it is currently capable of speeds up to 10 Mpbs, in the future speeds of 1 Gbps can be expected.