Looking ahead to 2020, 5G will play a game-changing role across all industries. The rapid deployment of 5G networks around the globe and a hike in 5G subscriptions will drive an increase in the number of IoT connected devices worldwide. And the implementation of IoT solutions in business applications and throughout society will change the way in which the various actors and stakeholders in the economy interface with each other. Recently, a number of systems with intelligent drive functions and high-performance control platforms have come on to the market.
Baumüller Presents Intelligent Automation Solutions for Digital Future
At the end of November, Baumüller Group the Nuremberg headquartered manufacturer of electric drive and automation systems presented new components with extensive IoT functionalities. These make it easy to network and control machines and machine modules right through to individual automation components. "With the new IoT functions, data can be collected directly at the machine, pre-processed and output to other devices or the cloud. It enables extensive and complex data analysis to enable Industry 4.0 applications such as predictive maintenance," said the company. Included is an OPC UA block, which ensures interoperability at the machine level. Data from devices of different manufacturers can also be processed.
The Baumüller family of 'intelligent inverters', the 'b maXX 5000' series with integrated soft drive, enables data analysis to be done directly in the drive. Numerous controller functions are integrated into the series to make the system more efficient and intelligent. Functionalities such as gearbox protection, the adaptation of the controller parameters, fault responses or the monitoring of the thermal pump utilization via a temperature model ensure lower service costs, shorter downtimes and lower system costs.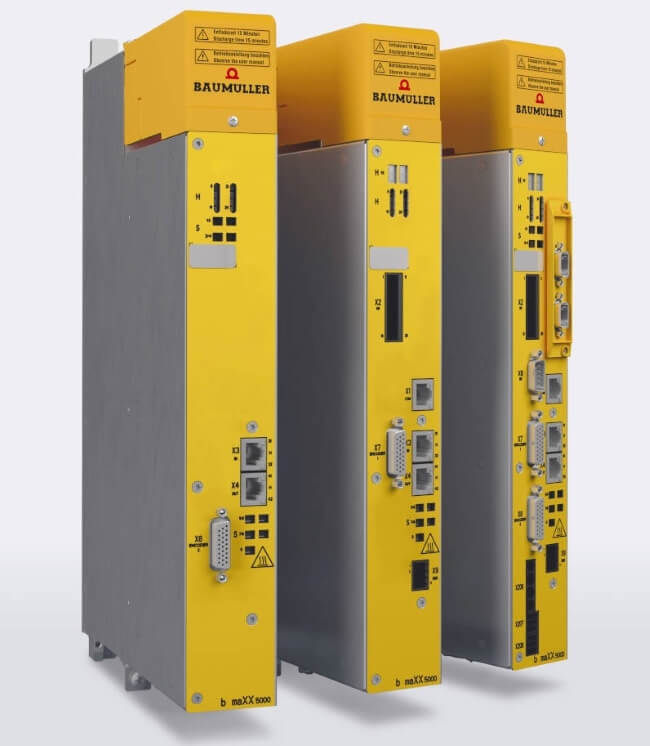 The new generation of the b maXX 5300 module systems is compact, with scalable security functions, which can be activated via hardware I/Os or over ethercat FSOE 
Credit: Baumueller

Also presented was Baumüller's new 'ProSimulation' software. This expands the range of functions of its 'ProDrive' software as it enables the virtual configuration and testing of automation systems by allowing customers to enter into the world of simulation. Advantages include time and cost savings in the development and commissioning of new machines and plants, as well as the optimization of existing machines.
Bosch Presents Intelligent Technology
At CES 2020, scheduled to be held in January in Las Vegas, Robert Bosch GmbH the German-based technology group, will present a number of connected products for both mobility and the home. These will include the Bosch IoT Shuttle technology that will be showcased at the event. "In the future, mobility service providers (MSPs) will increasingly use shuttles to offer customized on-demand mobility – whether for road freight or passenger transport," said the company. Bosch will also present 'Home Connect', which it describes as an expanded platform for everyone for the residential internet of things (IoT).
Some 40 partners collaborated with Bosch on the development of "Home Connect, the open IoT platform for all things relating to household appliances. It is being extended from its original rollout for kitchen appliances to the rest of the home. And starting in mid-2020, Home Connect will also offer control of connected devices such as lighting, heating, security, entertainment across different manufacturers," said the company. The Bosch subsidiary Security and Safety Things has developed its own IT platform in an effort to make coordinating devices, software, and data for video and security applications in commercial buildings as effective as possible. Thanks to this platform, it takes no time at all to test the compatibility of an app with its intended application or to implement systems.
Ericsson IoT Accelerator Updates
In October, it was announced that Sprint, one of the leading US communications service providers, had incorporated two new updates to its Ericsson IoT accelerator-powered 'Curiosity™ IoT' platform. The enhancement includes a private IoT network solution, as well as NB-IoT functionality. The development is collaboration between Sprint and Ericsson, one of the leading providers of Information and Communication Technology (ICT) to service providers, and is managed by Ericsson's IoT Accelerator. It provides the ability to manage IoT applications that have critical requirements, such as low latency or local breakout, without the need to traverse the macro environment. Ivo Rook, Senior Vice President of IoT and Product Development, Sprint commented, "Curiosity™ IoT was created with the possibility of private networking in mind."
The private IoT network solution, based on the Enterprise Core solution in Ericsson Private Networks, will provide a virtual, pre-integrated enterprise core network that is quick to deploy and access agnostic. And the availability of NB-IoT on Curiosity™ IoT further expands low power wide area network access across the purpose-built IoT platform. Åsa Tamsons, Senior Vice President and Head of Business Area Technologies and New Businesses, Ericsson said, "With NB-IoT, Sprint now expands low power wide area network access to Curiosity™ IoT to meet the needs of small and medium-sized businesses, enterprises and government entities alike."
Outlook
In its latest Mobility Report Ericsson predicts that by 2025 there will be 5 billion cellular IoT connections worldwide, from 1.3 billion at the end of 2019. Meanwhile, McKinsey estimates that the economic value to be generated by IoT globally will amount to $3.9-11.1 trillion per year by 2025.