Miniaturisation combined with the greater flexibility of solar cells is leading to new opportunities for wearable solar technology. The benefits of wearable solar solutions are clear: small electronics can be charged through a USB connection integrated into clothing, thereby bringing an extra layer of convenience for users. And a whole swathe of electronic devices, such as mobile phones, could be charged on the move. Until recently though the technology had yet to move much beyond the concept stage and make its commercial breakthrough. But in October, a company claimed that it was on the verge of making such a breakthrough.
The Starlight Catcher in Wearable Solar 'First'
The use of wearable solar gadgets took a major step forward in October with the introduction of 'The Starlight Catcher', which the developer claims is the world's first wearable solar charger. The charger can fit into a trouser back-pocket and is sufficient to charge a smart-phone. "It is small and light, making it easy to carry, and in few hours is capable of charging the 2500mA inside battery, even on an overcast or cloudy day," said Andrea Poma company founder and Starlight team leader. The company has just started a 'Kickstarter' crowdfunding campaign to commercially launch the product. The Catcher uses 'Sunpower solar cells', which Andrea described as "the best photovoltaic cells available on the market."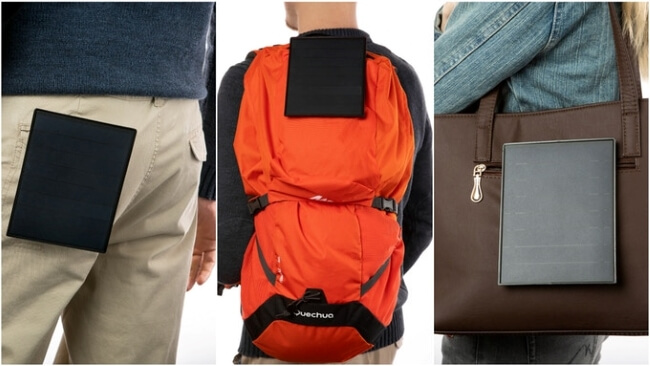 Credit: Starlight Catcher
Japanese Researchers Develop Super-Thin Solar Cell for Clothing
A group of Japanese researchers at the Riken research institute and Toray Industries Inc. recently developed a super-thin organic solar cell that can be heat-printed onto clothes. The cells can be used to power portable devices and wearable technology. The ultra-flexible organic photovoltaic (OPV) are said to achieve a thermal stability of up to 120 °C and a high power conversion efficiency of 10%, with a total thickness of 3 microns. Thermally stable and ultra-flexible OPVs are one of the keys to expanding the possibilities of textile-compatible electronics. The researchers forecast that this could allow wearable solar cells in clothing by the early 2020s.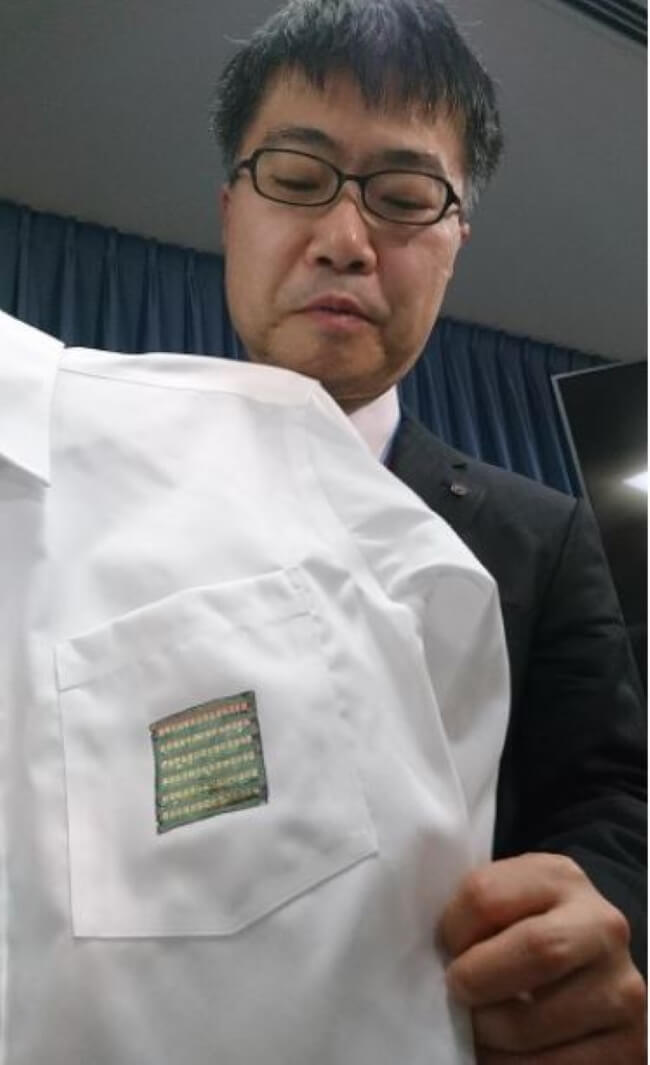 An organic photovoltaic cell is seen affixed to a business shirt on April 16, 2018.
Credit: Mainichi 
NTU Develops Way to Embed Miniaturised Solar Cells Into Yarn
At the end of last year, it was announced that Nottingham Trent University (NTU) had developed a way to embed miniaturised solar cells into yarn that can then be knitted and woven into textiles. The tiny solar cells have already been proven capable of charging a mobile phone and a 'Fitbit'. The NTU project makes use of solar cells that measure 3mm long and 1.5mm wide. The cells are each laminated in a waterproof resin to allow them to survive the laundry process unharmed. An additional benefit is that they are too small to be felt by the wearer. "The clothing would look and behave like any other textile, but within the fibres would be a network of miniaturised cells which are creating electricity," said project lead Professor Tilak Dias of NTU's School of Art & Design. The researchers found that an array of 200 mini solar cells embedded into a 5cm² section of fabric can generate up to 80 milliwatts of power, enough to charge a Fitbit wearable device or a basic mobile phone. Scaled up to 2,000 cells, the system could charge a modern smart-phone.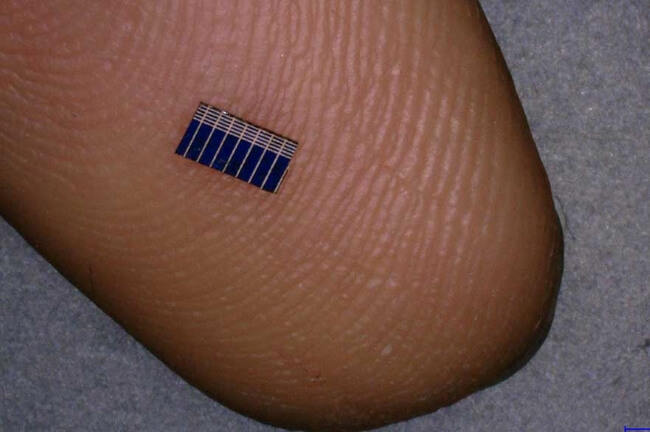 Credit: Nottingham Trent University
RMIT University Australia Develops Waterproof Smart Textiles
In October, researchers at RMIT University, Australia announced the development of a method for laser-printing smart, waterproof fabrics 'within minutes'. The scientists claim, "In just three minutes, the method can produce a 10x10cm smart textile patch that's waterproof, stretchable and readily integrated with energy harvesting technologies." The technology enables graphene super-capacitors to be laser printed directly onto textiles. In a proof-of-concept, the researchers connected the super-capacitor with a solar cell, delivering an efficient, washable and self-powering smart fabric that overcomes the key drawbacks of existing e-textile energy storage technologies.
Smart textiles with built-in sensing, wireless communication or health monitoring technology call for robust and reliable energy solutions. "Current approaches to smart textile energy storage, like stitching batteries into garments or using e-fibres, can be cumbersome and heavy, and can also have capacity issues. These electronic components can also suffer short-circuits and mechanical failure when they come into contact with sweat or with moisture from the environment. Our graphene-based supercapacitor is not only fully washable, but it can also store the energy needed to power an intelligent garment. By solving the energy storage-related challenges of e-textiles, we hope to power the next generation of wearable technology and intelligent clothing," said Dr Litty Thekkakara, a researcher in RMIT's School of Science.
Outlook
Key drivers for wearable solar technology include miniaturisation, durability and sufficient flexibility to enable the devices to withstand being folded and creased during wear without damage. A recent report into the 'roll-to-roll' flexible device market suggests a CAGR of 14.3% to a valuation of $41.3 billion by 2023, from $21.2 billion in 2018. An example of recent 'roll-to-roll' developments include the partnering of Germany's Fraunhofer Institute with PhotoTex, to develop pliable, textile-based solar cells for use on buildings and lorries. For example, thin-film photovoltaic technology could be used on a lorry tarpaulin to generate electricity for the driver, either while driving or parked.