Attaining 'Zero Energy' wastage in smart buildings and other sectors that are heavily reliant on electronics is one of the holy grails for industry and regulators alike. Wasted energy contributes to the ageing of surrounding components and this has clear cost, safety and efficiency implications. The approach to achieving net-zero energy building varies widely across the globe and is influenced by a number of different environmental and cultural, not to mention developmental, factors. At present, the main focus for construction engineers and architects is on making buildings more efficient by reducing the amount of energy consumed by their various climate control lighting and other appliances.
Mitsubishi Achieves Japan Zero Energy First
In August, Mitsubishi Electric Corporation announced that its 'Net Zero Energy Building (ZEB) Test Facility' had become Japan's first medium-scale office building under construction to receive a Net Zero Energy Building certification from the Building-Housing Energy-efficiency Labelling System, a third-party certification organization in Japan. The facility is scheduled to start operating in September 2020 and will be based on the company's 'ZEB+' concept of construction and maintenance over the building's lifecycle. Mitsubishi commented, "The certification recognises the facility's projected reduction in energy consumption by 103%, compared with its surrounding region's average consumption levels."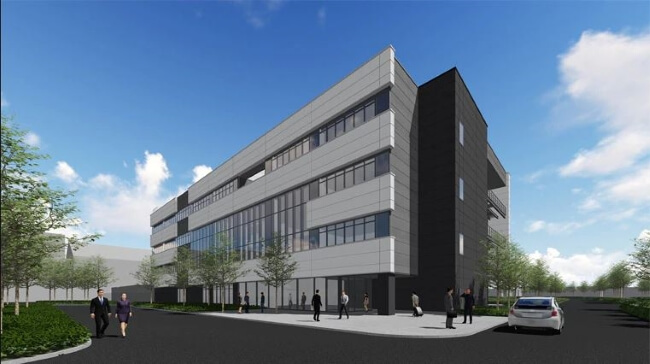 Rendering of ZEB Technology Test Facility
To qualify for certification, Mitsubishi Electric optimised the design conditions for the entire construction process. It also maximised the efficiency of equipment and systems to be installed in the facility and introduced ZEB-based solutions for the air conditioning, lighting and photovoltaic systems. Mitsubishi Electric aims to accelerate the development and application of its ZEB-related technologies to other buildings.
Northbrook Earns Zero Energy Building Designation
A US-based activity centre located in Northbrook, Illinois, has received a $1.78 million grant to ensure that it achieves Net Zero Energy building status when it opens in early 2021. The new project officially broke ground on July 10. Northbrook is the second Illinois park district to receive a grant to build a Net Zero Energy building. The building will feature an array of solar panels on the roof; HVAC systems with the highest efficiency ratings; LED lighting; occupancy sensors in rooms and daylight sensors in perimeter spaces. It will also have educational panels and an energy usage display.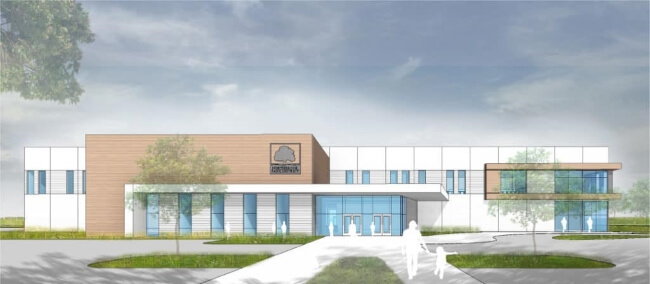 Credit: Northbrook Park District
This building is just one of many zero energy buildings that are being built in the US and Canada. A new study released by TEAM ZERO, formerly known as the 'Net Zero Energy Coalition', says that 22,146 units are either in design, construction or operation in North America. These include single-family and multi-family projects and they represent a 59% increase over the prior year inventory. In the rest of the developed world, the European Union (EU) Energy Performance of Buildings Directive (EPBD) requires all new buildings to be nearly-zero-energy buildings (nZEB) in all EU member countries by the end of 2020. Japan and South Korea have also formulated ZEB policies and set similar goals.
Schurter Unveils New PDLC Glass Indicator Display Technology
But energy consumption and wastage need to be monitored and the status displays that monitor the operating state of electrical equipment in buildings themselves generate heat during operation. These displays, often called indicators, have for many years been based on LED technology. However, one of its disadvantages is that for the diode to light up electrical power is required. And more than half of this power is wasted as heat rather than providing light.
Now, a new display has come on-stream that is helping to reduce power loss. Schurter Holding AG, the Swiss-based manufacturer of electrical and electronic components and services, has produced a whitepaper describing what it claims is "a new indicator technology that reduces the power loss by up to a factor of 20." And it claims that the principle-based on PDLC glass (Polymer Dispersed Liquid Crystal) shows promise. The use of PDLC glass instead of LEDs is said to offer a wealth of advantages. Power dissipation caused by the component can be reduced by a factor of 10 to 20 while electrical insulation offers another benefit. Schurter is promoting the technology as suitable for applications with increased safety requirements. The whitepaper explained, "PDLC status displays for visual operational inspections can be integrated into all conceivable safety-relevant equipment such as measuring and laboratory equipment, fire detectors, air conditioning systems and much more."
Outlook
Polaris Market Research forecasts the net-zero energy buildings market reaching over $96 billion by 2026. The key drivers to this growth include the several stringent energy consumption regulations passed by governments worldwide that have boosted the adoption of net-zero energy buildings. Other factors supporting market growth include increased investments by vendors and recent technological advancements. Commercial structures such as manufacturing plants, offices, and institutes have so far accounted for the highest market share. However, in the coming years, it is the residential sector that is expected to grow at the highest CAGR.