Introduction
Presence detectors specially designed for buildings with a large coverage area are a new security and safety feature that is rapidly becoming a part of the security marketplace. A presence detector monitors the detection zone for occupancy. If a person is sensed then the detector will automatically turn the lighting on. When the area is vacated the lighting will then turn off after a preset time delay. Absence detection works on the reverse principle. Upon entering the room the person switches on the light as normal, but on leaving the detector switches off the lighting automatically. Controlling lighting with a presence detector is estimated to save up to 60% of lighting energy costs, although this level of saving is dependent on occupancy behaviour and the amount of natural light available. Major players in the global passive infrared motion sensor market include Axis Communications AB, General Dynamics Corporation, Bosch Security Systems Ltd., Current Corporation, Atmel Corporation, Elmos Semiconductor AG, Cypress Semiconductor, Honeywell International Inc., Epson Toyocom Corporation and STMicroelectronics N.V.
Schneider Electric Introduces New KNX Presence Detectors
In July, Schneider Electric GmbH presented its new KNX presence detectors with constant light control for individual room control of lighting, heating and air conditioning. The presence detectors have been specially designed for long corridors with a large coverage area and are suitable, for example, for entrance halls, long corridors and other common areas. The indoor KNX presence detector corridor can be installed in locations with a ceiling height of up to 14 meters. The KNX presence detector 'Mini' sensor version is just 43 x 71 mm and can be installed in suspended ceilings without changing the interior design or architecture of a building. "With the optional remote control, all KNX presence detectors can be remotely configured and tested. They detect even the smallest movements in every area of a building, thus enabling, for example, a lighting control that takes into account the external conditions," the company said in a statement.
B.E.G. Announces New Multi-Sensors
The German-based sensor specialist, B.E.G., has announced the offering of a large number of its "occupancy detectors" as BMS multi-sensors. The advantage of BMS multi-sensors over the classic connection of 24V multi-sensors is that the 2-wire DALI cable, which is often already available or planned for the lighting, can be used for the connection. B.E.G.s PD4-GH series offers occupancy-controlled and daylight-dependent lighting control for high-bay warehouses. The company Web site explains, "Almost no other area offers such a high potential at energy savings as high-bay warehouses, where light is switched on and off centrally." The energy costs for the lighting are massively reduced, usually between 60% and 80%. Instead of illuminating all aisles and corridors during all working hours, this is done only as required.
Securitas Rethinks IoT Controlled Lighting
Securitas and Fagerhult the Sweden-based LED lighting provider have teamed up to trial an internet-based LED lighting concept in Lund, Sweden at the Medicon Village Science Park. The pilot installation at Medicon Village, which went live in April 2018, is focused on security applications. According to a report in LEDs Magazine, the detectors use an Internet connection to send granular heat-mapped, real-time presence information to offsite Securitas security operation centres (SOCs), which display the information on giant screens in a classic mission-control-style room.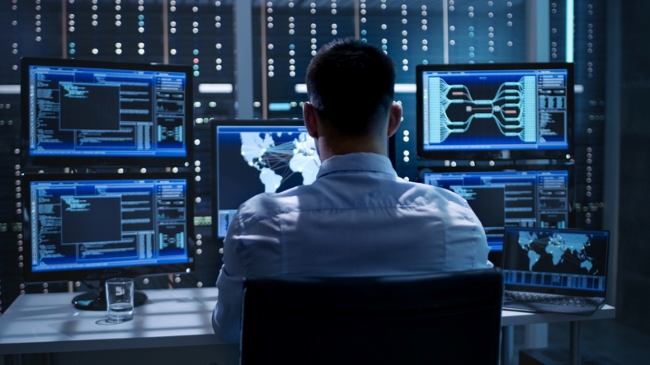 Security service companies like Securitas conventionally purchase standalone sensors from security product companies. However, Securitas thinks that it can cut costs by teaming with lighting companies such as Fagerhult. The LED lights at Medicon Village intelligently turn on, off, up, and down in response to motion that they detect, guided by Fagerhult algorithmic technology. "We can install one sensor that controls the light, and the same sensor can be part of the security system. It's one sensor for both," said Daniel Unoson, Fagerhult manager of controls and connectivity hub. Unlike with cameras, the Fagerhult PIRs provide faceless presence detection in the form of digital heat maps. The sensors spot the presence of non-evacuated individuals in these spots and they can also alert security staff of the possibility of suspicious occupancy. The primary driver at Medicon Village is to test the effectiveness of intrusion detection. Eventually, Securitas plans to take that one step further by programming the system to trip audible alarms and flashing lights.
Outlook
PIR-based sensors accounted for the largest share of the occupancy sensor market in 2019, which according to the latest 'MarketsandMarkets' research report is growing at a CAGR of 12.3%. PIR-based sensors are the oldest as well as being the cheapest of the occupancy detection devices whose prime application area is lighting control. Apart from reducing energy costs, users of PIR-based sensors are also able to minimize their maintenance costs.