What is a DC to DC converter How does it work?
DC to DC converters that generate a precise and constant current are proving to be a crucial factor in the development of mission-critical electronic components. The DC-to-DC converter is a type of electric power converter that converts a source of direct current (DC) from one voltage level to another. They are increasingly used in portable electronic devices such as cellular phones and laptop computers. Previously and before the development of power semiconductors, the primary way to convert the voltage of a DC supply to a higher voltage was via AC. Key players in the DC/DC converter market include General Electric (GE) (US); Ericsson (Sweden); Texas Instruments (US); Murata Manufacturing Co. Ltd (Japan); and Delta Electronics Inc. (Taiwan). 
Würth Elektronik Unveils 'MagI³C Power' DC/DC Converters
The German manufacturer of electronic and electromechanical components for the electronics industry, Würth Elektronik eiSos GmbH & Co. KG, recently upgraded its DC/DC converters. Based on its 'MagI³C VDRM' (Variable Step-Down Regulator Module) the upgraded design includes two additional control loops. In the two operating modes, the output voltage can be set from 0 to 15 V and the current from 0 to 2.5 A. The input voltage range is 7 to 36 V. LEDs on the board indicate: voltage control mode; current control mode and missing output voltage. "The design can be used as a driver for white, infrared and ultraviolet power LEDs, or as a battery charger for lead, NiCd, NiMH or lithium-ion batteries. It offers itself as a super cap charger and mini-laboratory power supply," explains the company.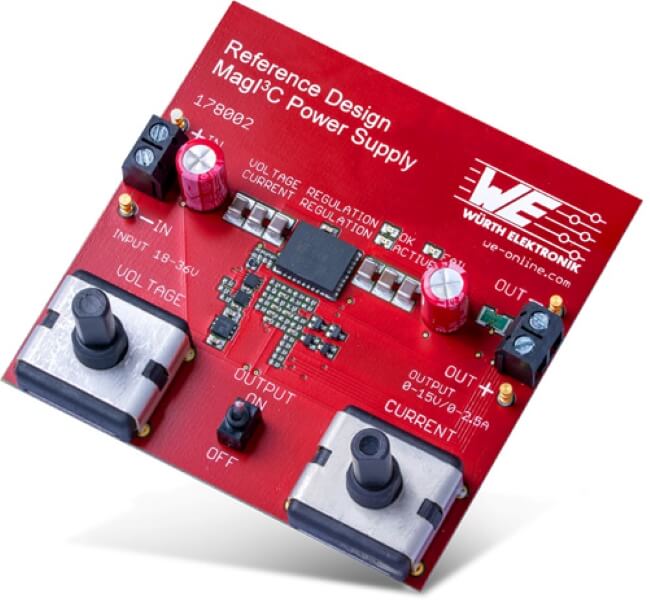 Texas Instruments Launches Low-Power DC/DC Converter
US-based Texas Instrument (TI), the largest player in the analogue semiconductor space, has launched its own latest low-power DC/DC 'Buck' converter. It is designed for use in consumer and industrial Internet of Things (IoT) devices that have limited battery life. Customers can now use the new DC/DC converter to shrink the overall size of power supply solutions, reduce costs and adopt smaller batteries in their devices. The converters' feature a controller with one or more integrated FETs and an external inductor. These offer a balance of flexibility and ease of use. Both non-synchronous converters (integrated high-side FET and external diode) and synchronous converters (integrated high-side and low-side FETs) simplify the design process by reducing the external component count. The synchronous step-down converter is designed to draw as little standby current as possible thereby extending battery life. "By wasting less standby current, the product can cut battery count by 50%, giving customers the option to use smaller batteries," TI said. 
Ricoh Launches DC/DC Converters for 'Wearables' 
Ricoh Company, Ltd. the Japanese multinational imaging and electronics company has announced the launch of two Buck DC/DC Converters: the RP516 and RP517. The chips are designed for wearables and IoT and for applications requiring a low supply voltage, between 0.3 and 1.2 V. The converters operate in a VFM mode and deliver 100 and 300 A respectively. The main difference between the two products is their output current power. Both products offer synchronous rectification and have high and low side MOSFET driver transistors embedded. And by using the proposed external components, only 8.3mm2 of printed circuit board area is utilised. Thanks to the wide input voltage range, the two DC/DC Converters are able to operate from various power supplies like a USB port, a single cell Li-Ion and other regular batteries. Protection circuits are integrated with an Under Voltage Lock-Out circuit disabling the DC/DC Converter in case the input voltage drops below a minimum threshold. A soft-start circuit controls the output voltage to ramp-up smoothly, preventing any output overshoot and undershoot during the start-up period.
Mornsun Creates Push-Pull DC/DC Converter
The Chinese chip-maker Mornsun has developed a push-pull DC/DC converter. The UK stockist for the converter is the Dorset-based distributor RELEC Electronics Limited. Called the SCM1201A, the device is an unregulated oscillator/power-driver. "To maximise the reliability, the chip design has incorporated three key technologies: a soft start function, output short-circuit protection and integrated over temperature protection. A range of SMD mounted transformers which can be tailored to your design is also available," explained RELEC. Deviations in the power supply parameters, even at temperatures down to -40°C, do not affect output short circuit protection. Conversely, if the temperature exceeds the specified range the chip is put into 'sleep' mode. Once the temperature drops to a safe level the system is capable of self-recovery. 
Outlook
 The outlook for DC to DC converters is certainly rosy. Recent research published by 'ReportsnReports' expects the market to grow at a CAGR of 17.5% between 2019 and 2025, from $8.5 billion to $22.4 billion. Growth can be expected to feature in various sensitive applications, such as high voltage circuits, power metering systems, and healthcare systems. Medical equipment, in particular, includes highly critical components, which require small-sized DC/DC converters of 1W or 2W output power.