NXP has announced the launch of three Bluetooth LE MCUs for use in the automotive and industrial sectors. What features do these MCUs boast, and how will they help their targeted applications?
Bluetooth
When it comes to radio communication, there are a wide variety of different protocols available to designers. Cellular protocols allow for high data-rates with easy roaming between cells, while Wi-Fi provides high data-rates for local networks. Bluetooth is a radio technology that is generally favoured by simpler devices that operate on batteries. This is because of all radio technologies, Bluetooth is one of the lowest power protocols thanks to its lower data-rates and range. Devices that utilise Bluetooth include headphones, IoT, and interfaces.
But the range of any transmitter/receiver pair is not only dependent on the transmitter; a sensitive receiver can increase that range. A classic example is the use of a Yagi-Uda antenna on a Wi-Fi dongle which can allow for Wi-Fi reception over a mile away from the source. However, increasing the range of a Bluetooth device with the use of an antenna is hardly practical as Bluetooth is designed for use on portable devices generally aiming to be as small as possible. Therefore, another route to increasing the sensitivity is to change the receiving circuit with the use of higher quality components or utilise better signal processing methods to increase the Signal-Noise-Ratio (SNR). 
Introducing NXPs New MCU Range
With the increasing use of Bluetooth, NXP has released three new Bluetooth MCUs; KW39, KW38, and the KW37. The range of MCUs integrates an ARM Cortex-M0+ core with a core frequency up to 48MHz, up to 512KB program flash, and 64KB SRAM. Peripherals found in the MCU range also include a 16-bit ADC, multiple timers, I2C, SPI, UART, CAN, and GPIO with IRQ capabilities.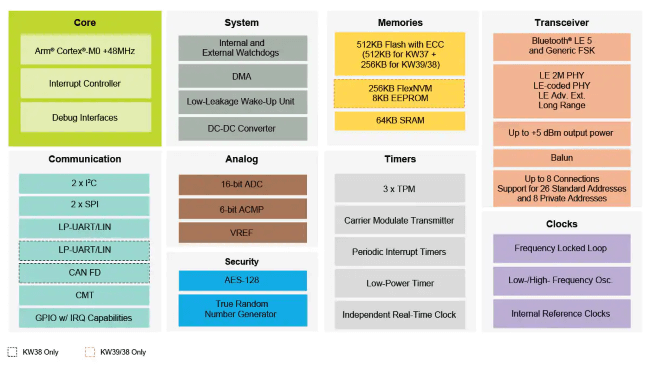 Radio capabilities of the MCU range include a 2.4GHz Bluetooth LE 5.0 transceiver capable of supporting up to 8 simultaneous hardware connections in any master/slave combination. Generic FSK modulation is utilised with data rates between 250 and 1000kbps, and modulation indexes of 0.32, 0.5, and 0.7. When operating in high-speed mode (1Mbps), the receiver sensitivity is -98dBm, and when used in low-speed mode (250kbps), the sensitivity of the receiver is -105dBm.  This figure is critical as experimentation shows that the Bluetooth MCUs have a range of up to a mile. 
The use of the FlexCAN module allows for the MCUs to be integrated into automotive applications, and the CAN FD system allows for increased bandwidth and lower latency. Also integrated into the MCU range is a range of hardware security features including a true random number generator, AES-128 hardware accelerator, and LE secure connections. Housed in a 7x7mm 48HVQFN, the KW39, KW38, and KW37 provide designers with an ultra-small, extended-range Bluetooth platform with integrated security features, and automotive capabilities. Applications that the Kwx range target include car access, car sharing, asset tracking, HVAC control, sensors, data collection, and hospital infrastructure. 
Conclusion
When talking about Bluetooth, long-range is often something that does not come to mind. However, the use of sensitive receivers and intelligent signal processing techniques allows for the KWx range of microcontrollers to have a Bluetooth range far beyond what most other devices can provide.