This July, ROHM will be hosting two webinars surrounding their IGBT and SiC power devices. What are the devices that will be looked at, and what applications will they help to improve?
Power Devices
High power devices have been around since the first practical uses of electricity were discovered. Giant dynamos would generate power from dams while motors would drive heavy machinery. These devices would utilise either AC or DC, and would not require additional power conversion stages. But as technology has progressed, the nature of high-power devices has changed dramatically with the need for power conversion, dynamic control, and closed-feedback loops. Now, DC power systems in a vehicle are needed to drive motors while also providing air-conditioning and heating. Solar panels that generate DC are required to convert their outputs to AC with minimal losses so that the power can be fed into the power grid. The engineers of today are surrounded by a whole range of power conversion and control, which is why it is essential that when controlling large amounts of electrical power, the right type of device is chosen. To aid in this decision, ROHM are providing two webinars in early July surrounding two potential power device solutions. 
ROHM IGBTs – The Best Fit for HV Heaters and E-Compressors
The first webinar by ROHM is scheduled for Tuesday 7th July 2pm CEST, and is being hosted by Dr Felipe Filsecker. Dr Felipe Filsecker has been working with ROHM since 2016 as an application engineer for power devices, after collecting significant experience on this topic during his Ph.D. studies at the TU Dresden. This webinar will focus on electric vehicle air-conditioning systems and the role that automotive-qualified IGBTs play. It also focuses on OEMs who are looking on expanding their portfolio to new products, such as high-voltage heaters and e-compressors, and want to have a better understanding on how IGBTs can help with these applications. The webinar will start with an overview on traditional AC systems in electric vehicles, and then determine the power requirements for such systems. From there, these requirements will then be compared to RGS IGBTs produced by ROHM to demonstrate component selection. The end of the webinar will then look at other potential products in the ROHM range including shunt resistors and gate driver ICs.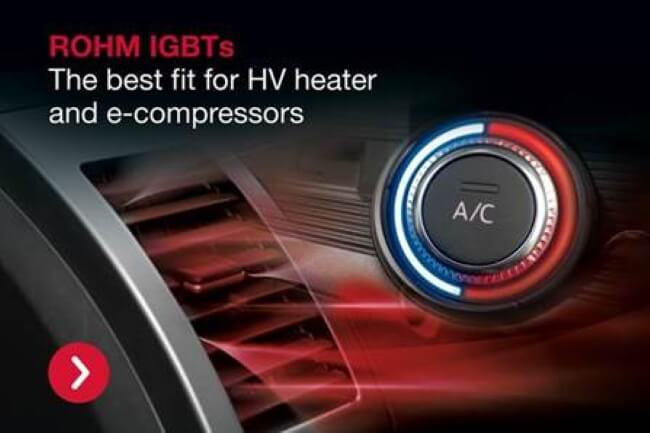 An example device in the ROHM range that could be the next power solution for EVs is their 1200V-Rated IGBTs. These automotive parts boast a reduction of 10~15% conduction loss, and high efficiencies with 1.65-1.70V VCE typical. The new range of RGS IGBTs come in 11 different varieties for targeting a range of power applications with collector currents ranging from 15A to 50A, and either 1200VCES or 600VCES.
Gate Driving of SIC Power Devices and ROHM Solution
The second webinar by ROHM is scheduled for Wednesday 8th July 2pm CEST, and is being hosted by Vikneswaran Thayumanasamy, an Application Engineer responsible for Gate driver products at ROHM. This webinar will focus on SiC power devices, the challenges presented in gate driving, and how these problems are tackled using ROHM gate drivers. The webinar will start by introducing viewers to ROHM's isolation technology, and the key features of isolated gate drivers. The webinar will then wrap up with the introduction of ROHM's new AEC-Q100 qualified gate driver, the BM6112FV-C, and how it can help key power applications such as traction inverters.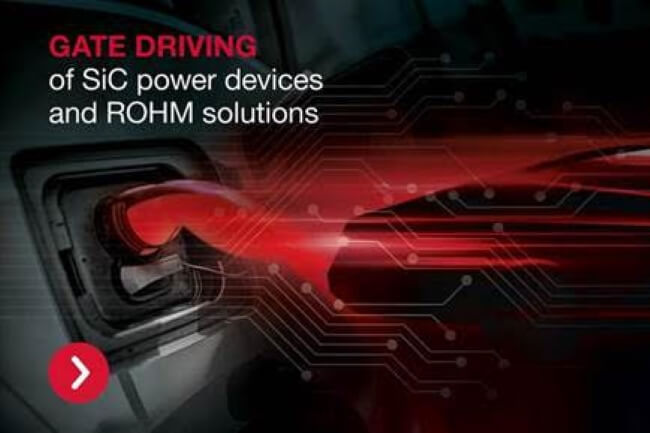 The focus of the webinar, the BM6112FV-C, has a maximum isolation voltage of 3750 Vrms, fault signal output function, ready signal output function, under-voltage lockout function, short circuit protection, miller clamping, and temperature monitoring. The maximum current output provided by the BM6112FV-C is 20A, and an operating temperature range of -40°C to +125°C.
Conclusion
With power applications becoming ever-increasing in importance, and the need for better power efficiency, choosing the right device has never been more important. With so many devices available to engineers, and the complex driving nature of these devices means that it is easy to get lost in the world of power devices. By joining ROHM in their webinars on power devices, engineers will be shown how ROHM devices can not only help their next project, but also understand how to use those products effectively.