The use of robots in the hospital setting for disinfecting purposes is being ramped up rapidly in the fight against the Coronavirus pandemic. Recently, the International Federation of Robotics (IFR) the body that represents the robotics industry and research and development institutes in more than 20 countries, reported on some of the most recent developments.
Blue Ocean Robotics Supplies Over 2000 Robots to China
Danish manufacturer Blue Ocean Robotics, an IFR innovation award winner, has supplied more than 2,000 of its disinfection UVD robots to hospitals in Wuhan. The robots are also used elsewhere in more than 40 countries in Asia, Europe and North America. Claus Risager, CEO of Blue Ocean Robotics explained, "Ultraviolet light (UV-C) is used to kill harmful pathogens. With our robots, we are helping to solve one of the greatest problems of our time: reducing the spread of viruses and bacteria and thus saving lives. The demand has skyrocketed. Our existing customers are buying significantly more devices than before the crisis, but many new customers are also ordering UVD robots to combat coronaviruses and other harmful microorganisms."
The UVD robot has the ability to drive autonomously through operating theatres and patient rooms and irradiate all critical surfaces with the optimal amount of UV-C light to kill viruses and bacteria. "The more intensively the robot irradiates a surface, the more harmful microorganisms are destroyed. 99.99% of all viruses and bacteria in a typical patient room are killed within 10 minutes," says an IFR press release. "The potential of the robots to support us in the currently severe corona pandemic is enormous. They support us in the healthcare sector, but also in the development, testing and manufacture of medicines, vaccines and other medical devices and aids," said Dr Susanne Bieller, Secretary General of the IFR. In addition to disinfection tasks, robots can safely distribute hospital material in quarantine zones without the need for human contact.
Mobile Robot 'Phollower 100' Helps to Battle Coronavirus
Another example highlighted by the IFR is the 'Phollower 100', manufactured by Photoneo the Slovakia-based provider of robotic vision and intelligence based on its patented 3D technology. The robot can be used for transport and distribution of material in any environment that requires minimum or no personal contact. This is especially invaluable in hospital quarantine zones, and other healthcare environments, for the transport of vaccines and other medical devices. It has a universal mobile platform, a maximum carry weight of 100 kg/220.5 lbs and a maximum pull weight of 350 kg/771.62 lbs. It is simple to use, quick to set up and is both flexible and reconfigurable. No floor marking tapes are needed. Real-time navigation is achieved by controlling the robot's movements with a joystick.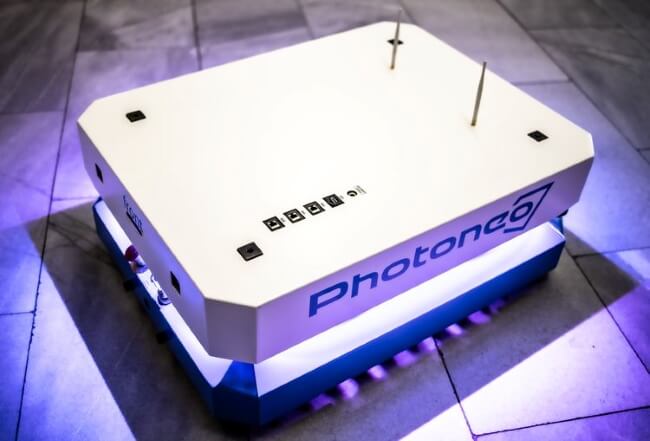 UC Berkeley Scientists Create Robotic COVID-19 Testing Lab
Meanwhile, in California, scientists at University of California, Berkeley's Innovative Genomics Institute (IGI) are creating from scratch an IGI pop-up diagnostic lab. With the help of robotics and a streamlined process, it is expected to soon perform 1,000 tests daily, with the ability to ramp up to 3,000 tests per day if necessary. "This is just an amazing opportunity," said Guy Nicolette, UC Berkeley's assistant vice chancellor for University Health Services. "I am amazed at how quickly Berkeley was able to mobilize and to take advantage of the newer rules in order to innovate more quickly. The lab side of things has been so reliant on human manual work that this would be a game changer in a lot of ways." UC Berkeley labs possessing high-throughput PCR machines donated their equipment to the cause, while IGI established robotic sample handling as well as secure data management.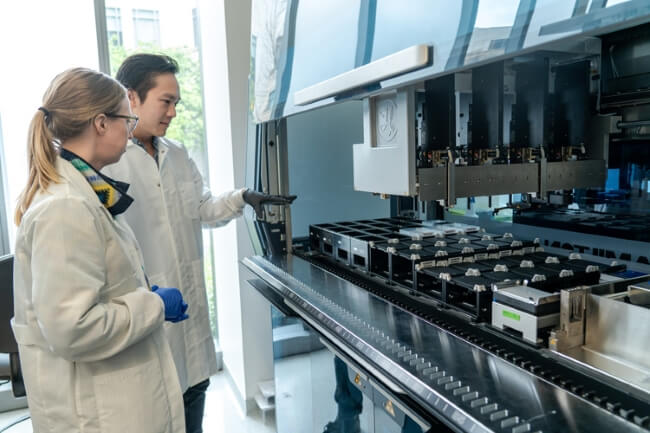 Credit: Berkley News
GermFalcon to Fight Coronavirus Infection
GermFalcon, a team of US-based infection preventionists, surgeons, infectious disease physicians and aerospace engineers led by Dr Arthur Kreitenberg, co-founder and Chief Technology Officer; Elliot Kreitenberg, co-founder and President; and Melissa Carr, Director, General Counsel claim that its 254 nm UVC disinfectant 'UVHammer' solution developed for hospitals and variable environments kills 99.99% of germs using only Ultra-violet 'C' light (UVC). UVHammer instantly kills bacteria, viruses and superbugs on any exposed surface. And the process is fast, affordable, safe and highly effective. The solution, originally used to disinfect aircraft, is claimed to be effective, "against Coronavirus, Ebola, Influenza and all other known disease-causing pathogens." It works on plastic, metals, leathers and fabrics. It is also environmentally friendly, non-toxic, non-allergenic and harmless to delicate materials. The GermFalcon team claim that UVHammer has a number of advantages over generic UV devices in hospitals with regards to treatment time (less than 5 minutes); the ability to disinfect a wide variety of surfaces including curtains, floors and bathroom; and a reduction in cost to the hospital for treatment per room.   
China's TMiRob sees Soaring Demand
The Shanghai based medical robot developer that works with hospitals and clinics, TMiRob Technology, has witnessed a surge in hospital demand for its robots since the outbreak of COVID-19. "Our entire inventory has been exhausted. Even the robot model demonstrated in the exhibition hall of our company has been purchased and delivered," said Pan Jing, founder of Shanghai TMiRob. By combining chloric acid and plasma, the company's robot can disinfect the environment where both human beings and machines are present. "The robot can move around on its own and deliver intensive disinfection services in areas frequented by patients and medical workers alike. It can operate automatically thereby minimising people's extra exposure to the hospital environment," said Pan.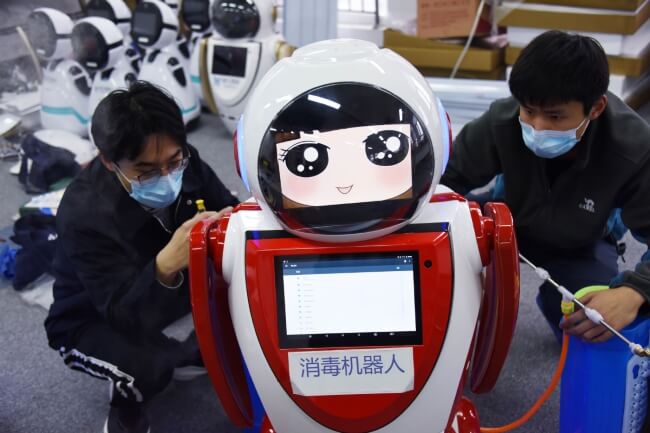 Technicians check a disinfection robot at a high-tech company in Qingdao, East China's Shandong province. 
Credit: Xinhua
Founded in January 2015, TMi-Rob has mainly targeted the high-end medical service robots. One year later, the company obtained the first patent for the invention. Two of its robot models entered on-site trials at a hospital in Wuhan during the crisis.
Outlook
The tech market advisory firm, ABI Research, expects the overall mobile robotics market to grow to $23 billion by 2021. "Crises shift perceptions on what is possible regarding investment and transformative action on the part of both private and government actors," said Rian Whitton, senior analyst at ABI Research. "By the time the COVID-19 pandemic has passed, robots will be mainstreamed across a range of applications and markets," he said. Whitton recommended that "industrial players develop customized solutions for non-manufacturing use cases or look to build comprehensive solutions for enabling a scale-up in medical supply manufacturing. For mobile robotics vendors and software companies targeting more nascent markets, this represents a big chance to highlight the importance of robotics for dealing with national emergencies, as well as mitigating the economic shock."
Read more articles related to the Coronavirus pandemic: