Touch control and display technology is becoming an indispensable part of industry and today almost all industrial embedded solutions have some sort of graphical user interface. Manufacturers now integrate commercial PC technologies to provide customised solutions for users. This is achieved by incorporating the latest technology solutions and control automation methods into commercial products, manufacturing equipment and test stations. 
Transparency Market Research (TMR) says that industries, such as automotive manufacturing and food and beverages, are the main drivers for these touch-screen displays. Key players include: Advantech Co., Ltd, Cypress Semiconductor Corporation, Dell, Inc., B&R Industrial Automation GmbH, Elo Touch Solutions, Inc., Fujitsu Ltd., Hewlett Packard Enterprise, LG Electronics, Panasonic Corporation, Planar Systems, Kontron AG, Schneider Electric S.E., Siemens AG, Beckhoff Automation GmbH & Co. KG, Captec Ltd., and American Industrial Systems.
BOPLA Launches New Touch Displays for Industrial Embedded Solutions
At the end of February, Bopla Gehäuse Systeme GmbH, the East Westphalia Germany based developer and producer of touch screens and membrane keyboards will showcase in Nuremberg its latest examples of products that integrate displays and touch-screens in industrial embedded applications. The company says it supports its customers through all procurement, manufacturing, assembly and integration steps up to the finished, functional and ESD-compliant device. 
"We specialise in the implementation of complex HMI [human machine interface] projects and integrate screens with input functions into housings. In the case of capacitive touch displays, we can print the glass pane as well as connect the pane and display using optical bonding," it says.
Emerson Releases New Portfolio of RXi Industrial Displays
At the end of January, Emerson the technology and engineering company announced that it had released a new display for industrial applications. The new portfolio of RXi industrial display and panel PC products for monitoring are designed to work with both Emerson's programmable logic control (PLC) and programmable automation control (PAC) solutions, and third-party control systems. The display portfolio features standardised physical designs to minimise the variety of enclosure cut-outs required for OEM applications, making each display easily replaceable and upgradeable in the field with no need to modify existing cabinets or install new ones.
Displays are available in sizes ranging from seven to 24 inches, providing a single, scalable platform for a multitude of operations and applications. Key features for all models include vivid projective capacitive multi-touch screens that can operate in temperatures from 20 to 65 degrees Celsius and optional sunlight readable screens on select sizes. The portfolio carries multiple certifications and is IP66-certified for protection against dust and strong jets of water.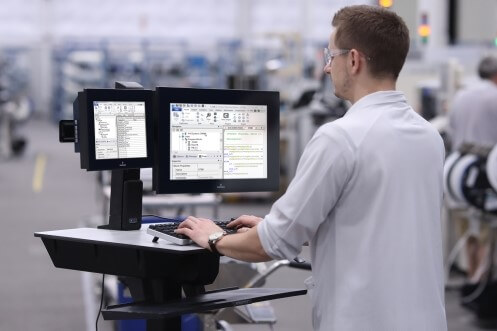 Emerson's new portfolio of rugged displays provides process and plant floor visualization, without sacrificing performance and flexibility, to deliver key data insights for a range of applications. 
Credit: Emerson
GSR Technology Introduces New High Resolution TFT Modules
At the end of last year, GSR Technology Europe Limited, provider of standard and custom made optoelectronic solutions, introduced the new 7.8-inch High Resolution thin film transistor (TFT) module with projective capacitive multi-touch technology as an optional extra. The extremely compact design makes it suitable for many industrial applications. It also introduced two new high resolution TFT modules. The 5.0 inch and 8.0-inch modules come with projective capacitive multi-touch technology as standard. 
GSR Technology also works closely with its partner EETI, the Taiwan based provider of eGalaxTouch touch technologies, to provide a full range of touch controllers that are designed to optimize the performance of projected capacitive touch technology. The EXC range of touch controllers and IC chips are specifically designed for commercial, industrial and medical applications. EETI touch controllers support USB, RS232 and IC interfaces and offer high voltage driving signal to achieve high signal-noise-ratio and better interference susceptibility for demanding applications.
Display Technology Supplies Rail and Docks with TFT LCD Monitors
Display Technology is supplying TFT LCD monitors to a rail company for its CCTV system. It has so far supplied 300 of its 'Litemax' 1068E, 10.4 TFT LCD, LED Backlight 1600 displays. A further 500 is to be supplied over the next 2 years. The display comes with 4 options: Finished monitor; Open frame monitor; Full AD Card Kit with no metalwork; and Panel only plus LED driver. The company has also supplied and fitted 12.1-inch industrial touch monitors for use in cranes at Felixstowe Docks."We made various design improvement suggestions which the customer decided to implement.
This included connector exit position, change in analogue pot, and stronger umbilical conduit. After pre-production the touch-screen was mounted using an alternative method to increase ruggedness in such a harsh operating condition," Display Technology said.
Outlook
The analysis by TMR predicts a CAGR of over 6.5% in the global industrial touch-screen display market to 2026. This would give it a valuation of $835.3 million. Among end-use industries, the automotive segment is anticipated to constitute a significant market share. It is expected to be driven by rising demand for 'next-generation' touch-screen display panels that can withstand harsh environments as well as a rise in demand for custom touch panels with full display enhancements such as sunlight readability and custom rugged cover glass with logos and graphics.