Agriculture is set to become 'smarter' with digitisation and new technologies such as facial recognition for animals promising to provide the sector with greater control over its processes. Dr. Venkat Maroju, Chief Executive Officer of 'SourceTrace' a provider of software solutions to the agriculture and allied sectors, said that digital technologies have an "enormous potential" to impact agriculture in several aspects by enabling farmers, on the one hand, to produce more while at the same time reducing the environmental impact of agricultural production. "Digital technology comes with several solutions to make this happen from farm management and traceability to certification and market linkage," he said.
itelligence AG Launches New Farm Control System
In September, itelligence AG the SAP software and technologies services company in partnership with the German Technical University OWL and HARTING Foundation & Co. KG a provider of industrial interconnection technology announced the launch of HARTING MICA®. This is a system designed to enable the most efficient method of farming a given acreage of wheat using data collected via sensors from the soil, agricultural machinery and satellite images. Tractors and trailers are weighed to record the amount of corn delivered and ensure a one-to-one allocation to the arable land. The data is then sent to the cloud for further evaluation. The system also records data during the critical mashing process.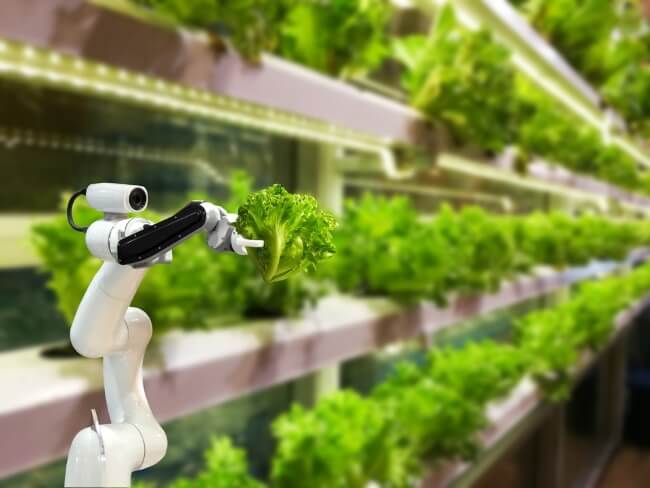 Credit: itelligence
The whole system is designed to optimise yield and use water or pesticides more efficiently. Explaining the benefits Dries Guth, Principal Innovation Manager and Head of IoT Innovation Lab at intelligence said, "Agricultural data transmission is enabling completely new approaches on how we will ensure sustainable food production today and in the future. It's also about exploring new forms of food production, such as urban farming or vertical farming."
Agrosmart Raises Funding for Digital Farming
Also in September, the São Paulo-based digital agriculture platform start-up, 'Agrosmart', raised $5.8 million in backing from Brazil's Inovabra Ventures fund as well as computer manufacturer Positivo Tecnologia's corporate venture arm. Agrosmart is keen to expand the use of big data and analytics to help farmers increase the efficiency and sustainability of their operations. Its system captures data from different sources. Its software then analyses this raw data and uses 'machine learning' algorithms to make recommendations on everything from seed placement to climate modelling. Other Brazilian companies such as JBS have developed drones and IoT sensors to gather data on livestock and their environment.
Cargill and Cainthus Develop Bovine AI 'Facial Recognition' Technology
A strategic partnership between the US resource and trading group Cargill Inc. and the Irish technology company Cainthus has developed bovine facial recognition technology, powered by AI. The system equips barns and fields with smart cameras that can identify each cow in a herd 'in seconds'' based on facial features and hide patterns. Linked to machine learning software, the system determines whether a cow isn't eating or drinking enough, or if it is sick, and can alert the farmer via a smartphone app. Crucially the platform is capable of 'learning' from what it sees, thereby enabling daily animal care to become more automated.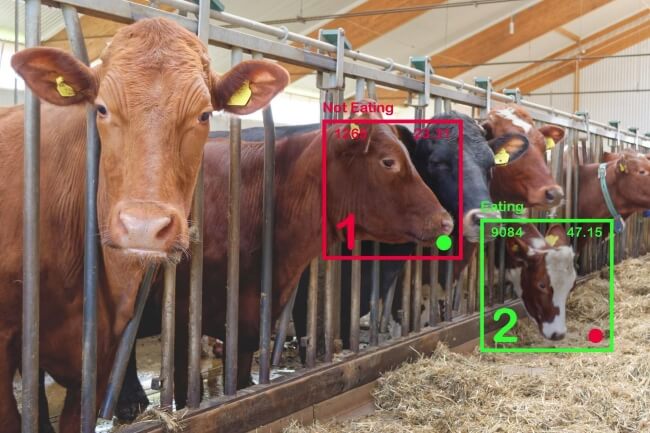 Cainthus Ireland Ltd.'s animal facial-recognition and performance-management software tracks behaviour. 
Credit: Cainthus
Chinese Farm Trialling Facial Recognition for Pigs
Yingzi Technology, a firm based in south China's Guangzhou city, has rolled out facial recognition software for use on pigs using an app similar to those used on humans. Chief executive officer Dr Jackson said that once the app scans a continuous stream of video frames of the swine's distinguishing features such as its snout, ears, eyes and markings on its head, the images are analysed using 'deep learning' algorithms and uploaded to an online database. The system can match and update the individual 'pig profile' within seconds and provide details such as ID number, breed, birth date, weight, gender and genetic composition. The company says the system has a software accuracy of "more than 98 per cent." The technology is currently being trialled on about 3,000 pigs on a farm owned by Guangxi Yangxiang Co Ltd, a privately owned agricultural and animal husbandry company in south China. Dr He hopes to eventually bring his company's facial recognition solution to Europe, by 2021.
There are though challenges to using facial recognition technology - that was after all developed to recognise humans - for profiling pigs and cattle.  Reliable facial-recognition depends on getting clear, well-lit and straight-ahead images and this can be difficult to obtain from herd animals. Animal faces also require hundreds of reference points, many more than humans, to derive algorithms that can achieve similar levels of differentiation.
Final Thoughts
A recent report into the precision farming market predicts that it will reach a valuation in excess of $12 billion by 2025. Devices such as drones, sensors, GPS systems, and smartphones for capturing aerial data will all grow in popularity and there will be a rise in applications of IoT, cloud computing geomapping technologies and irrigation management applications.