The Internet of Things (IoT) proved revolutionary in its pervasiveness. IoT technology seeped into homes and businesses alike, with Internet of Things applications ranging from smart home tech to healthcare. Notably, there is a slew of benefits of IoT in agriculture from introducing connected devices. Smart farming continues to rise in its implementation. Find out the top ways that the Internet of Things and agriculture meet, and how IoT is changing agriculture.
What is Connected Agriculture: AgriTech vs Smart Farming
AgriTech, with its root (pun fully intended) of tech, implies a fusion of agriculture and technology. Smart farming, or connected agriculture on the other hand, refers to IoT in agriculture. Whereas AgriTech merely means some sort of technology, such as machinery, there's not necessary networked connectivity.
Internet of Things devices have grown smaller, and with a variety of wireless communication protocols, many extremely low energy, it's increasingly possible to usher smart agriculture sensors and connected farming technology into the ag space. As Business Insider reports, IoT, smart farming, and big data adoption remains necessary for the future of farming. Further, research indicates that the connected agriculture market may surpass $15 million USD by the year 2025.
What Smart Agriculture Companies Exist?
With its explosion in popularity and adoption, the connected agriculture market paved the way for many IoT farming companies. Lely offers an automated system for the dairy industry, while Farmobile provides a comprehensive smart farming monitoring platform. The aptly-named OnFarm delivers a cloud-based solution for connected ag. Farmapp features its Integrated Pest Management software, replete with sensors, monitoring capabilities, and more.
1. Farming Drones - One of the Best Smart Agriculture Technologies
Agricultural Drones range from mini palm-sized devices to impressive, professional-caliber machines capable of recording high-definition photos and video, and even industrial vehicles for package delivery. In smart farming drones are spectacular for monitoring both crops and livestock. With an agricultural drone, it's easy for farmers to self-image fields. Often, these IoT farming devices boast specialised sensors as well as image processing software for determining the likes of crop and livestock health, plant count, soil temp, 3D mapping, and more. Suffice it to say these differ substantially from consumer-facing drones. In the connected agriculture market, farming drones are a neat, and incredibly functional, IoT in agriculture use case.
2. Data Collection - Prime IoT in Agriculture Use Cases
A major advantage of IoT technology is data collection. Whether that manifests in increased efficiency from a Nest learning thermostat, or patient monitoring, it's a transformative element in IoT. Likewise, smart agriculture sensors afford the opportunity to capture and analyse data. For instance, many smart farming companies may employ IoT devices for monitoring soil, crops, livestock, and the atmosphere. Real-time data may be used to make adjustments, and historical data provides insight into the overall well-being of farms, and potential improvements which can be implemented. Even weather patterns may be monitored, then analysed.
3. Internet of Things in Precision Agriculture
Among the top examples of connected farming, you'll find precision agriculture. Precision farming, also dubbed precision agriculture, employs satellite imagery and sensors to capture and record historical data for the purposes of increasing efficiency. With precision agriculture, the goal it creating a decision support system, or DSS, which offers a complete farm management solution. There's an onus in precision farming to maximise production while lowering cost, both monetary and resource-based.
4. Self-driving Farm Vehicles
Autonomous vehicles don't just apply to transportation. Rather, self-driving tractors offer the prime example of a smart farming system. Where autonomous tractors aid farmers are in lowering labour costs. As AgriTech Tomorrow reveals, autonomous farm equipment boosts production. Because self-driving farm vehicles may continue operating 24/7, there's increased efficiency. The California Farm Bureau Federation found that over 70% of speciality crop growers suffer from labour shortages. Autonomous farm vehicles could tackle not only low production, but labour shortage issues as well.
5. IoT Applications in Greenhouse Farming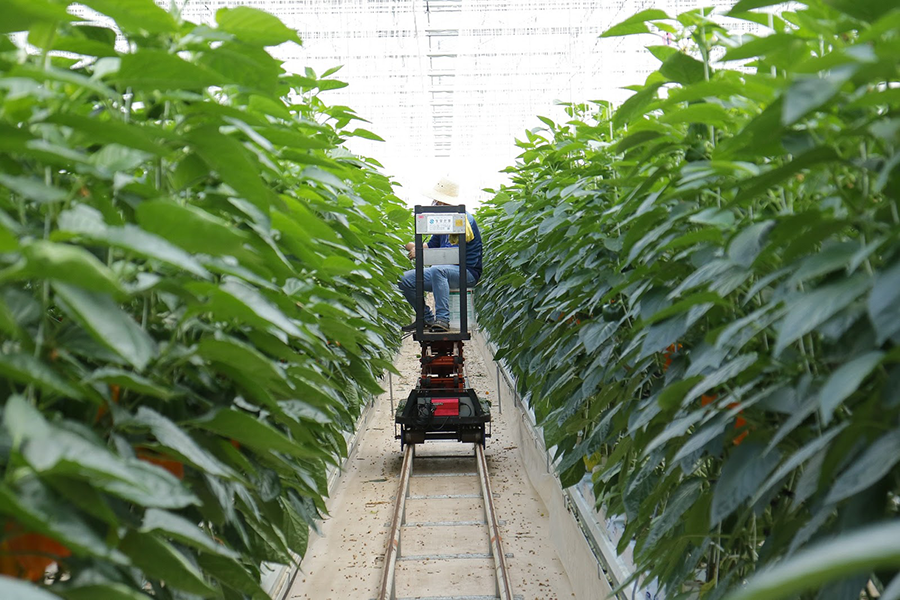 Image source: https://pixabay.com
While farming typically connotes seemingly-endless fields, greenhouse farming constitutes a major portion of farming. Notably, IoT in greenhouse farming proves extremely capable. Since it's a controlled environment, climate control devices, water and air monitoring, plus, pest management are feasible with the introduction of IoT technology. On a small scale, Arduino smart plant watering systems yield automation. Likewise, with smart greenhouse farming, it's incredibly simple to monitor and automate processes.
6. Crop and Livestock Management with Smart Farming Tech
Livestock sensors can track where animals have roamed, detect illness, and even show which livestock has given birth. Soil sensors capture analytics on soil water levels, acidity, and crop health. Since crops and livestock are resources, it's similar to how IoT aids in inventory management for shipping. Smart farming companies like Cowlar deliver tools for boosting efficiency through optimising processes.
How the Internet of Things in Agriculture is Innovating Farming: Harvest Season
IoT devices, when used properly, boast advantageous properties. The cross-industry trend is utilising data-driven farming to automate processes, improve efficiency, increase monitoring, and capture meaningful, actionable data. Likewise, in the agriculture industry, where agritech isn't new, smart farming systems continue to deploy regularly. From farming drones to crop and livestock monitoring, and the key role of the Internet of Things in precision agriculture, the connected agriculture market keeps flourishing.
Aggregated data lends opportunities for not only real-time monitoring, but improving agricultural best practices in the long term as well. Plus, smart farming provides a means to increase yields and production while minimising costs and combating problems hurting the sector, such as dwindling labour. Though the Internet of Things may aid many industries, it's particularly beneficial when applied to agriculture.