If you're like me, most of your Texas Instruments associations are of sitting in the back of high school calculus playing Super Mario on your TI-83 Plus. However, while the TI-83 may be the most obvious and well-known example of Texas Instruments, it's far from the only offering hailing from the groundbreaking tech company. Check out these other Texas Instruments applications besides calculators!
What is Texas Instruments?
Texas Instruments or TI, not to be confused with the Atlanta rapper of the same initials, or the element titanium is a renowned semiconductor manufacturing and design company. It's headquartered in, you guessed it, Texas and more specifically Dallas. TI dabbles in several areas, but their forte it in embedded processors as well as analog chips. Their full array of products includes digital light processing technology, microcontrollers, and of course, calculators.
DLP Technology
Fun fact: Texas Instruments invented digital light processing (DLP) in 1987. Now, DLP is a widely-used projector technology. At the time, it was known as a digital micromirror device. Since then DLP-based projectors evolved to include projection TVs as well as many cinema and home theatre projectors. DLP is commonly used as a curing source in resin-based 3D printing. TI's invention of DLP technology proved versatile and highly utilized even today.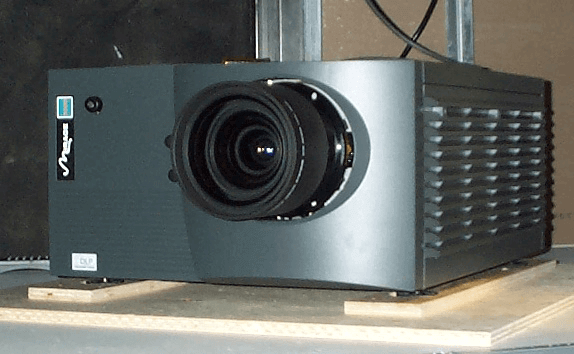 Image source: en.wikipedia.org
Microcontrollers
Microcontrollers such as the Arduino are incredibly popular for do-it-yourself (DIY) applications such as smart home automatic plant watering systems. Texas Instruments offers an array of both 16-bit and 32-bit microcontrollers (MCU). Among TI's MCU solutions, there are wired and wireless devices for an array of connectivity options. Plus, Texas Instruments hosts an RTOS software platform for simple development. Within TI MCUs, you'll find MSP430 ultra-low-power microcontroller units, ARM-based microcontrollers, and real-time C2000 MCUs. 
Audio Equipment - Processors, Converters, and Amplifiers, Oh My
Texas Instruments manufacturers loads of audio equipment including converters, switches, processors, and amplifiers. As such, TI carries a smorgasbord of audio solutions. These, in turn, may be employed for smart home audio, in the automotive audio industry, and for high-fidelity audio suitable for professional audio engineering and production applications. For instance, the AEC-Q100 is an oft-used audio amplifier in the auto audio industry.
TI-99/4A and TIPC - TI Computer Hardware
While the Texas Instruments TI lineup is most commonly associated with its calculators, the TI-99/4A was a home computer option launched in the early 1980s. It sought to compete with then-current devices such as the Tandy and Apple II. Later, the Texas Instruments Personal Computer (TIPC) debuted alongside the Texas Instrument Portable Professional Computer (TIPCC). Whereas the TIPC was a traditional desktop PC, the TIPCC was a foray into portable computers, although with its size, the TIPCC can hardly, especially by today's standards, be considered portable.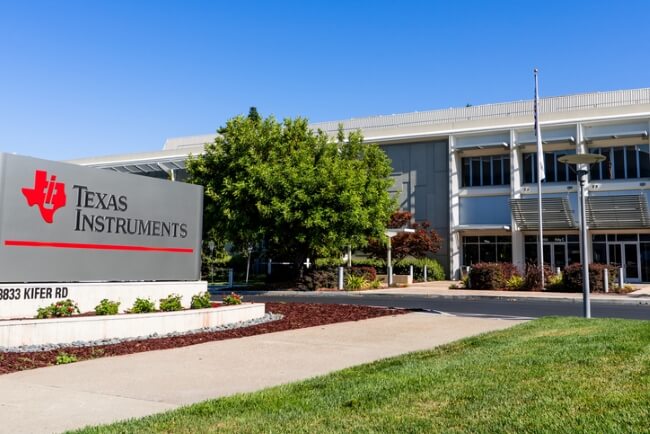 Defence Technology
In the 1940s, Texas Instruments pioneered its submarine detection system. This was built on the foundation of signal processing technology. Later, in the 1980s, TI dabbled in Six Sigma design along with Motorola. Eventually, the Texas Instruments created its Defense Systems and Electronics Group (DSEG) which went on to win a Malcolm Balrige quality award. In the 60s, TI snagged a defence contract and created the high-speed antiradiation missile AGM-88 HARM. Later, Texas Instruments debuted the first-ever laser guidance system for precision-guided munitions. Because of extensive military applications, TI created military computers including the data systems for the Mariner Program as well as F-22 radar. 
Semiconductors
Semiconductors are increasingly popular, and in 2011, Texas Instruments boldly acquired National Semiconductor. This paved the way for TI's growth in the signal-processing sector. Armed with its new semiconductor sector, Texas Instruments began producing wafers and die. In 2019, TI doubled down on its semiconductor branch with a $3.1 billion semiconductor chip plant poised to create around 500 jobs in Richardson, Texas.
TI: Texas Instruments or Texas Innovation?
Texas Instruments debuted a groundbreaking graphing calculator with a full-colour display, the TI-NSpire CX. And yes, it can run Doom, though no, it can't (yet) run Crysis. Plus, TI created DLP technology which rose to prominence at the forefront or projection technology. It may not be the only calculator company, but Ti-83 and TI-84 devices have become synonymous with the term "graphing calculator." 
But TI is about more than just calculators, producing everything from audio technology to semiconductors and even defence tech. Truly, the Fortune 500 company features a robust portfolio, and its products may be used in a slew of applications which range from the automotive industry to wireless networking, enterprise technology, and even gaming. Texas Instruments has even experimented with artificial intelligence (AI), creating its Explorer computers, a Lisp machine used for signal processing and speech recognition. So the next time you're playing Puzz Pack or Block Dude, think about all of the innovation sprung from the minds over at Texas Instruments aside from its graphing calculators.