The race is on to develop a new range of mechanical Direct Current (DC) circuit breakers. While the significant power users depend on alternating current (AC), which cycles on and off 60 times per second, DC is used to power devices such as flashlights, smartphones and electric cars. DC has inherent advantages over AC, among them higher efficiency and the ability to carry more power over longer distances. However, unlike alternating current that can be safely shut down when the power level hits zero during a cycle - the basis for breakers that protect modern power systems - switching off the DC for even just a few microseconds or milliseconds, is fraught with difficulty. Several projects are now underway that seeks to address this problem.
TU Ilmenau Researching New Circuit Breakers
In May, the German Technical University of Ilmenau commenced a large scale collaborative project to develop groundbreaking mechanical circuit breakers for electrical devices and systems that work based on direct current. Project delivery is scheduled for 2023. The three-year research project, 'FASS (Fast and selective Switching)', is funded by the Federal Ministry for Economic Affairs and Energy at the TU Ilmenau with Euros 1.3 million. The project is under the scientific direction of Prof. Frank Berger at the TU's Department of Electrical Devices and Systems. It is coordinated by ETA Elektrotechnische Apparate GmbH from Altdorf near Nuremberg with input from the Physikalisch-Technische Bundesanstalt in Braunschweig. The three research partners are supported by the Competence Center for Electrical Contacts Ilmenau (KEKI) as well as Siemens, Doduco and Heraeus.
The move towards renewable energy, away from primary fuelled electricity, is threatening to make large parts of Germany's AC based power grid increasingly redundant. More and more devices are now using DC-based photovoltaic (PV) systems on rooftops. This is in addition to DC-based electric cars and charging stations for cell phones. And new types of circuit breakers are now required to protect them. "The Federal Government's goal is to increase the share of electricity based on renewable energies significantly and at the same time, reduce energy losses in transport and consumption. Both the systems for generating renewable energies, such as photovoltaic systems and many consumer devices such as PCs, TVs or LED lighting are already based on direct current. Therefore, the switch from conventional AC to DC networks for households and industry is the order of the day," explain the project partners. 
'Hybrid Breakers' to make DC Practical in High Power Applications
Meanwhile, researchers from the Georgia Institute of Technology and Florida State University (FSU) are looking to develop a 'hybrid' system that could enable breaker switching speeds up to ten times faster than existing equipment. They are expecting to commercialise the technology through a consortium of industry partners. Lukas Graber, an assistant professor in the School of Electrical and Computer Engineering at Georgia Tech, explained, "We are proposing a hybrid DC circuit breaker in which the current will have two paths. One path will be through the semiconductors, which can interrupt the current when needed. The second path will be through mechanical switches, which will provide a much less resistive path that will be more efficient for normal operations."
The new technology project, funded by a $3.3 million award from ARPA-E's BREAKERS programme, could use innovations in power electronics, piezoelectric actuators, and new insulation materials to make high-power DC circuit breakers feasible. "The transition from AC to DC, which is already happening, will open up a new paradigm for efficiently and controllably managing power in future electrical systems and military platforms," said Michael Steurer, a research faculty member at FSU's Center for Advanced Power Systems. "This will be enabled by the amazing developments that have happened over the past two decades in power electronics."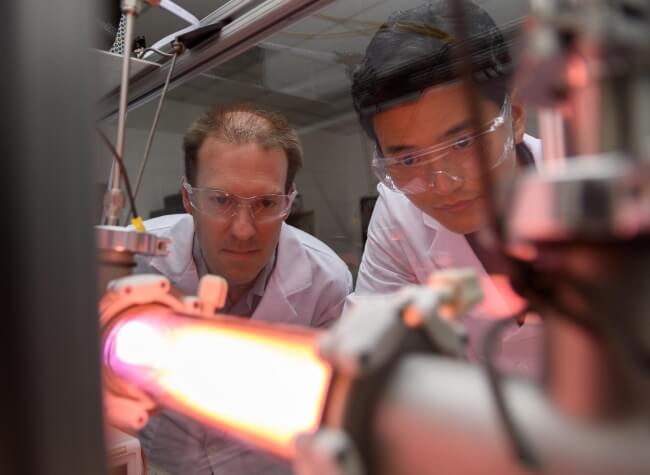 Georgia Tech Professor Lukas Graber and Postdoctoral Fellow Chanyeop Park study the plasma potential surrounding materials being evaluated for use in improved DC circuit breakers. The low-energy argon plasma creates a purple colour. 
(Photo: Rob Felt, Georgia Tech) 
The hybrid circuit breaker under development by the research team will use stacks of very large transistors to switch off the DC when necessary. Semiconductors are less efficient at conducting current than conventional mechanical switches, so under ordinary conditions, the current will flow through mechanical switches. But when the power must be turned off, the current will be briefly routed through the power electronics until the mechanical breakers can be opened. "We need to be extremely fast," Graber said. "We have to separate the contacts within 250 microseconds and to completely break the current within 500 microseconds — just half a millisecond. For that reason, we cannot use spring-loaded or hydraulic actuators common to AC breakers. Devices that rely on the piezoelectric effect can do that for us."
The Georgia Tech and FSU researchers have developed intellectual property for components of the proposed DC breakers and will work together to combine the technologies. The project is known as Efficient DC Interrupter with Surge Protection (EDISON). The researchers expect to build a prototype that will be tested at FSU's five-megawatt test facility "within three years". The development and testing will be done in collaboration with a team of industrial partners who will ultimately transition the DC breakers to commercial use.
ABB Reinvents the Circuit Breaker - Breakthrough Digital Technology
Last year ABB announced a technological breakthrough in the form of a solid-state circuit breaker, which the company claims will enhance the performance of renewable energy solutions, industrial battery storage solutions and so-called edge grids. With power losses 70 percent lower than comparable solutions, the technology is said to be 'vital' for the electrification of sustainable transport. It will enable savings of up to $200,000 in a ferry and up to $1 million in a cruise liner over ten years. The product is to be made available this year. The ABB solid-state breaker concept works by replacing the traditional moving parts of an electro-mechanical circuit breaker with power electronics and advanced software algorithms that control the power and can interrupt extreme currents faster than ever before. 
Developed in Italy at ABB's Bergamo Electrification business R&D Center, the ABB breaker concept is the first of its kind to use a patented integrated gate-commutated thyristor (IGCT) semiconductor technology. This technological breakthrough is combined with new embedded predictive power management software, protection algorithms and higher levels of connectivity. "This development is going to strengthen the weakest link in next-generation electricity infrastructure. Our 21st Century circuit breaker technology can better meet the demands of renewables, the electrification of transport and modern edge grids as today's offerings," said Giampiero Frisio, the head of ABB's Smart Power business line.