Cost-effective metal 3D printing with powder bed fusion is increasingly becoming a reality as we move towards full production metal parts, and away from the use of plastic based prototype versions, accelerates. Indeed, the metals sector is the most rapidly growing category of 3D printing. Metals used in 3D printing include aluminium, bronze, cobalt alloys, copper, gold, nickel alloys, palladium, platinum, silver, steel, titanium alloys and tungsten. The leading adopters of 3D printing include the aerospace, biomedical and jewellery sectors. In aerospace, NASA intends to 3D metal print over 80% of its future rocket engines. Before the end of 2020, there'll be a $3.5billion investment in a production plant to make 100,000 fuel nozzles per year for the engines. In dentistry, parts such as copings and bridges are being made using metal 3D printing; while in jewellery, 3D printing allows for sophisticated, bespoke, unique shapes to be produced.
SpaceX 3D Printer Supplier Raises $28 Million
At the end of April, Velo3D the California based developer of a metal composite 3D printing technology and a supplier to SpaceX announced that it had managed to raise $28 million in funding, thereby paving the way for product expansion. Benny Buller, Founder and CEO of Velo3D said, "With the Velo3D integrated solution of Flow™ advanced pre-print software, Sapphire™ printer, and Assure™ quality management software, companies can finally break free of the constraints of existing metal additive manufacturing processes. Customers in industries such as aerospace, oil & gas, and power generation are now able to achieve part quality for their mission-critical applications with performance levels that weren't possible before with 3D metal printing." Velo3D said that it plans to use the new capital to expand its product portfolio to include more machine options, compatible alloys and enhanced software and hardware capabilities. The company anticipates that the injection of fresh capital will help them reach sustainable profitability by mid-2022.
US Army Develops 3D Printer for 'Ultra Strong' Steel
In April, 'New Scientist' reported that the US army is developing a giant high speed 3D printer for significant, ultra durable steel components and weapons. The prototype printer is being commissioned from 3D Systems in South California for $15 million and can create objects up to a volume of 1x1 by 0.6 metres. It is said to be "the largest, fastest and most precise steel printer ever made" and is big enough to print entire parts for military vehicles. AF96 nickel-alloy steel that was developed for bunker busting bombs was adapted for the printing. It lays down layers of powdered metal and fuses them with a laser.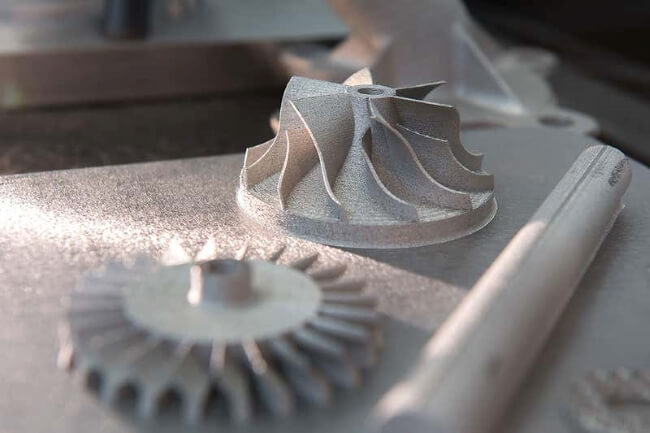 Steel parts made from powder and a laser in a high-speed 3D printer.
Credit: US Army photo by David McNally
Brandon McWilliams at the US Army Research Laboratory, Maryland explained, "We needed to be able to print something with high strength for armoured or 'ruggedised' parts. We weren't sure if you could print with it [the alloy]. But in fact, the 3D printed alloy turned out to be 50 percent stronger than the same alloyed material when cast or forged." The printer is scheduled to be fully operational within "the next few months", and if successful, steel parts could be routinely printed "within two to three years," said McWilliams. 
Sandvik Metal 3D Printing Plant Receives Certification
Sandvik, the Swedish headquartered additive manufacturer, materials technology, metal cutting and miner, has announced that its new Sandviken-based powder plant for titanium and nickel-based alloys has received AS9100D certification. The new factory was inaugurated at the end of 2019 and is the result of a $25 million investment. It is on the same land as Sandvik's dedicated additive manufacturing facility, which houses several metal 3D printing technologies and will allow the company to tailor materials to processes on the same site. 
"Sandvik is a world leader in metal powder for additive manufacturing with the widest alloy programme on the market. Titanium powders represent the latest application of 158 years of materials knowledge and R&D – and more than 40 years of in-house powder manufacturing capabilities. With the AS9100D certification together with all our experts in materials, metal powder and additive manufacturing, we can now help our customers succeed even faster in this high-growth area," commented Kristian Egeberg, President of Sandvik Additive Manufacturing. Sandvik has produced two titanium powders at the new plant: Osprey Ti-6AI-4V Grade 5 and Osprey Ti-6AI-4V Grade 23, and two nickel-based superalloys, Osprey Alloy 625 and Osprey Alloy 718. Others are available on request.
Xact Metal Collaborates with Encee Systems
In April, the Pennsylvania-based 3D printer manufacturer Xact Metal and Germany's Encee Systems GmbH, the manufacturer of 3D CAD/CAM software and 3D printers, announced a collaboration to market Xact Metal's XM200C 3D metal printer. Sebastian Trummer, sales manager Encee, explained, "In many discussions with companies, we were often faced with the challenge of economically representing metal 3D printing. With the machines from Xact Metal, we are now able to offer our customers from various industries a technically and economically profitable way to integrate metal 3D printing into the company. The investment costs are only a fraction in comparison to systems on the market." The XM200C printer has a space of 127x127x127 millimetres, a 200 watt Yb-fibre laser and a patent-pending scanner that works at speeds of up to 650 millimetres per second. The system has a small footprint, which enables easy integration into the laboratory or workshop. The XM200C supports a wide range of metals - including stainless steel, alloys 718 and 625, copper, tool steel, bronze, aluminium and titanium. The architecture is open so that qualified users can develop their printing parameters or use their powder.
Outlook
The latest market research from Technavio into the global 3D printing metal materials market sees it growing by $1.59 billion between 2020 and 2024, at a CAGR of over 26%. Key players include 3D Systems; Arcam; EOS; Renishaw; EnvisionTEC; SLM Solutions; Stratasys; SLM Solutions; Concept Laser; Sisma and; Trumpf.