After years on the backburner, fuel cell electric vehicles (FCEVs) are about to come of age. Fuel cells, combined with a battery and super-capacitor, rely on oxygen from the air and compressed hydrogen to start-up and power a vehicle. Advantages of this technology include efficiency, low or zero emissions, and the ability to source the fuel from local, rather than imported sources.
Importantly, fuel cell technology allows for quick refuelling. For example, a fill-up can take as little as five minutes at an SAE-conforming hydrogen fuelling station. An added bonus is that FCEVs only emit water and heat as by-products. Leading players in the automotive fuel cell market include Plug Power, Nedstack, Doosan Fuel Cell America, Delphi Technologies, Ceramic Fuel Cells Ltd, Automotive Fuel Cell Cooperation, Hydrogenics, ITM Power, and Ballard Power Systems Inc.
Asian Auto Manufacturers Lead the Way 
So far, it is the Asian automotive manufacturers that have been at the forefront of delivering fuel cell solutions. The world's first commercial hydrogen fuel cell vehicle was the Hyundai Tucson FCEV, which was introduced in 2013. Two years later in 2015 and using its own patented solid-polymer electrolyte fuel cell, Toyota introduced the Mirai in the US, Japanese and European markets. Then in 2016, Honda Clarity's FCV began to be sold in California. 
Toyota's 'Next-Gen' Fuel-Cell Electric Car
In late 2020, Toyota is set to launch its second-generation Mirai as a premium sedan. The vehicle will be an update of the original version of the Mirai and will target a 30% increase in range. Toyota aims to achieve this through an improvement in the fuel-cell system's performance and greater hydrogen storage capacity. Toyota's fuel cell technology was used in the first generation Mirai and will be used in the soon to be launched second-generation model. The patent has now been released by the company, royalty-free.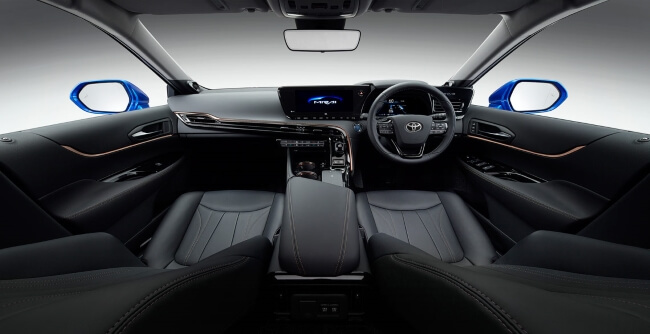 Toyota Mirai Concept
Credit: Toyota
Toyota says the technology is scalable. Indeed, it claims that it can be made, "small enough to power a phone or large enough to power a building, or anything in between." In a trial, Toyota installed fuel-cell power trains into a test fleet of Kenworth class-8 semi-trucks that can pull a maximum 80,000-lb. load. These zero-emission big rigs are currently used to move freight in and around the Ports of Long Beach and Los Angeles, California.
Toyota's Rivals- Hyundai and Honda Delivering FCEV Models
Aside from Toyota, Hyundai and Honda are also producing FCEVs. At the November 5-10, second China International Import Expo (CIIE) in Shanghai Honda introduced its fuel-cell vehicle, the Clarity Fuel Cell. The car provides a driving range of approximately 750 km and the hydrogen tank can be refilled in approximately three minutes. The company said it is discussing a possible application of its fuel-cell technology in the Chinese market.
At the same event, Hyundai showcased its fuel-cell electric vehicle, the NEXO. This is a flagship model that integrates Hyundai's fuel cell technology. Hyundai has also developed a fuel-cell commercial vehicle named the 'Neptune'. This is a 'concept' truck that has a low-noise, non-pollution hydrogen fuel cell system that can reduce transportation costs with lower vehicle weight and higher efficiency. Hyundai's self-developed fuel cell system can be applied to both passenger cars and trucks.
Ballard Power Systems Unveils Next-Generation Fuel Cell Module
Meanwhile, the fuel cell manufacturing company Ballard Power Systems recently unveiled its eighth generation high-performance fuel cell module in Stockholm, Sweden. Its 'FCmove-HD' fuel cell module is designed to be both compact and robust while offering a 35% reduction in lifecycle cost. It is the first in the Ballard family of 'FCmove' products to be introduced and is specifically designed to meet the requirements of transit bus operators. It will be used in 1,000 fuel cell electric buses (FCEBs) to be deployed in Europe by the new H2Bus Consortium, which was announced on 3 June. Benefits of 'FCmove-HD', compared to the current generation heavy-duty fuel cell module, are said to include: lower lifecycle cost; high reliability; simplified system integration; freeze start capability; and higher temperature operation.
Ballard's long-time customer, Solaris Bus & Coach based in Poland, is the first European transit bus manufacturer to integrate the FCmove-HD module into an FCEB. The Solaris Urbino 12 hydrogen fuel cell electric bus was unveiled and displayed at the June UITP Summit in Stockholm.
Outlook
According to a recent forecast by Market Research Future (MRFR), the automotive fuel cell market will grow at 15% CAGR, between 2019 and 2023. Various drivers include better fuel efficiency, fast refuelling time, longer driving range, government support, no greenhouse gas emissions, and decreased oil dependency. However, MRFR warns that an "inadequate hydrogen infrastructure", elevated vehicle cost, not to mention the extremely flammable nature of hydrogen and the difficulty of identifying hydrogen leaks could yet impede the growth of the automotive fuel cell market over the forecast period.