Demand for quartz crystal oscillators, which are essentially electromechanical devices used to provide a stable clock signal in a wide range of electronic applications, is growing. Quartz crystals can operate in frequencies that vary from a few tens of kilohertz all the way up to hundreds of megahertz. Crystal oscillators are known to be superior to ceramic resonators as they offer higher stability, higher quality and are considerably lower in cost and more compact in size. They are to be found in a wide range of products spanning domains such as military and aerospace, research and measurement, industrial, automotive and consumer products. Key players include Miyazaki Epson Corporation, Nihon Dempa Kogyo (NDK) Co., LTD., Oscilloquartz (ADVA), Murata Manufacturing, Daishinku Corp.(KDS), Rakon Ltd., River Eletec Corp. and Vectron International (Microsemi Corp.).
However, while quartz crystals are cheap to produce and continue to find many applications in clock circuits, they are increasingly challenged by more advanced devices like Micro-electromechanical systems (MEMS) resonator-based clocks and oscillators. Indeed, some estimates suggest MEMS offer 10 times better reliability than comparable quartz oscillators.
KDS Unveils New Oscillators
In October, KDS the Japanese manufacturer and seller of crystal devices and resonators presented its new DS1008J Series Differential Output Crystal Oscillators (DOCO) in Munich. The company claims that the devices, which were produced as a solution to the rapid increase in data flow through mobile networks and by big data in recent years, are the world's 'smallest and thinnest DOCO.' "Most differential output crystal oscillators on the market are 7050 and 5032 sizes. The KDS' 1008 size is much smaller than the conventional products that are currently available on the market," said the company. Other recent KDS developments include the DS1008JN KDS low-voltage clock Crystal Oscillator (1.2V). Applications include mobile communications and short-range wireless modules; wearable devices and automotive multimedia devices.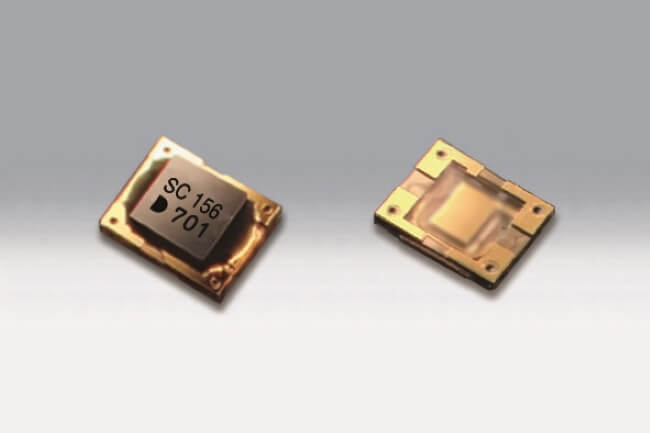 Nihon Dempa Develops Highly Reliable Crystal Oscillator
In August, the Japanese company NDK Co., Ltd one of the world's largest quartz crystal companies announced the development of a new NT2016SJA crystal oscillator for mobile communications. It claims that the device can withstand severe vibrations and shocks and is highly resistant to radiation in the space environment as space-use electronics mounted on satellites and rockets. The crystal oscillator features ultra-low phase noise characteristics, supports low power supply voltage and is ultra-compact and light.
ADVA Unveils GNSS Receiver for 5G
In November, the Swiss company Oscilloquartz, (ADVA), launched the OSA 5440, which it describes as "the ultimate tool for fixed, mobile and cable network operators looking to prepare for 5G while maximizing the value of their frequency synchronization infrastructure." The new solution delivers precise, phase and time-of-day synchronization with unbeatable resilience and scale. It offers full hardware redundancy, line rates up to 10Gbit/s and an unprecedented number of fan-out options.
"What we're offering the market is an entirely new route to high-precision UTC-traceable network timing that doesn't require significant investment. Our new multi-band GNSS receiver is a major milestone for network synchronization. For the first time, operators can harness a solution with multi-band GNSS capabilities. The new technology features unrivalled jamming and spoofing detection capabilities combined with our centralized AI-powered GNSS assurance suite." said Gil Biran, general manager, Oscilloquartz.
Jauch Announces Quartz Crystal Series for Wireless Applications.
Jauch Quartz GmbH, the German specialist supplier of quartz crystals and crystal oscillators, recently announced the launch of its dedicated JXSxx -WA quartz crystal series for wireless applications. The crystals are available in standard packages 2016, 2520 and 3225 and at 14 special frequencies to support standards like Bluetooth low Energy (BLE), Bluetooth Smart, Zigbee, ISM, LoRa, LPWAN or any other standards that are being used in wireless applications. "Due to their high frequency stability as well as their very low ESR these special crystals meet the high requirements that are essential for IoT and other wireless applications," said the company. The new releases include the JO32 and JO22 oscillators. The JO32 features a variable supply voltage (1.8 V ~ 3.3 V), very low current consumption and comes in a seam sealed ceramic/metal package. The JO22 has a LVCMOS/HCMOS compatible output and a similar variable supply voltage to the JO32.
Outlook
According to a recent study, the quartz crystal oscillators market is expected to register a CAGR of 5.5%, to 2024. Drivers include high demand for quartz crystal oscillators from the telecommunication, consumer electronics and healthcare sectors. Telecommunication systems, like SONET SDH, require a high stability system clock to prevent time slips or data loss. Healthcare devices require crystal oscillators in products such as pacemakers and this, plus other innovations, is expected to fuel the demand for crystal oscillators in that market. In the consumer electronics sector, the increased penetration of smart-phones and tablets will act as another significant driver for the crystal oscillators market.