A new wave of innovation is taking place in the electronic medical device market, partly driven by falling technology costs. Combined with the proliferation of 'smart home' connectivity, this cost decline is leading to the availability of ever more complex portable and miniaturised medical systems. Examples of the new medical devices now on offer for the home include the Nokia BPM+ blood pressure monitor that is able to sync with a smartphone via Bluetooth; and portable EKG/ECG monitors such as the Omron HCG-801. Key players in the medical electronics market include Texas instruments, Angiotech Pharmaceuticals, Carestream Health, Allengers Medical, and Maxim Integrated.
'GreenTEG' Announces New Body Temperature Patch
In August, GreenTEG AG the Zurich Switzerland based developer of thermal sensors announced its trademark 'GreenTEG gSKIN ® Body Temp Patch'. This is an autonomous, wireless device that allows for the measurement of core body temperature. Four days worth of data can be recorded from the two gSKIN®-XU 2mm x 2mm SMD sensors; two ultra-high-precision temperature sensors; an accelerometer; flash memory and Bluetooth Low Energy (BLE) wireless module on the device. In a statement, the company said, "Body core temperature is an important vital parameter that determines a person's state of health. GreenTEG has developed a globally unique sensor for this purpose. This gives you the ability to measure a person's core temperature permanently without resorting to invasive measures."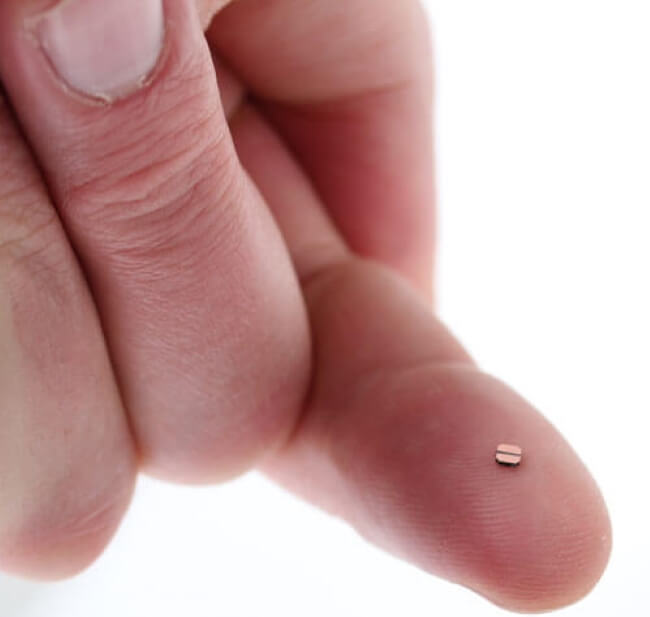 Credit: greenTEG
KTU Developing Health Monitoring for Elderly
In September, it was announced that a team of researchers from Kaunas University of Technology (KTU), in collaboration with the Department of Geriatrics at the Lithuanian University of Health Sciences (LSMU), are developing a system to monitor the health of the elderly. The system, which comes with an integrated BLE module, consists of stationary sensors mounted indoors and a small wearable 3-5 cm high device. It constantly monitors the health and body position of a person, accurate to one metre. When it senses that a person might have collapsed, the system sends a signal to those listed as emergency contacts.
Importantly, Internet access is not a necessity as emergency calls and notifications can also be sent via GSM. Egidijus Kazanavicius, professor, KTU Faculty of Informatics, explained, "The main challenge encountered during the process of creating the system was to register the fall of a person accurately." This is because the algorithms used can quite easily misinterpret a hand gesture as a collapse or the act of climbing stairs as falling. However, if a false signal is inadvertently sent it can be cancelled with a simple touch of the button. 
GIT Developing Wearable Health Monitors
The Georgia Institute of Technology and the George W. Woodruff School of Mechanical Engineering are reportedly developing a wireless, wearable monitor built with 'stretchable electronics'. This could allow for comfortable, long-term health monitoring of adults, babies and small children without any concern about skin injuries or allergic reactions that can be caused by conventional adhesive sensors with conductive gels. The monitor can broadcast electrocardiogram (ECG), heart rate, respiratory rate and motion activity data as far as15 metres away to a portable recording device such as a smartphone or tablet computer.
Woon-Hong Yeo, an assistant professor in the George W. Woodruff School and Wallace H. Coulter Department of Biomedical Engineering at the Georgia Institute of Technology (GIT) explained, "This health monitor has a key advantage for young children who are always moving, since the soft conformal device can accommodate that activity with a gentle integration into the skin." The monitor uses three gold electrodes embedded in the film that also contains the electronic processing equipment. The entire health monitor is just three inches in diameter, and a more advanced version under development will be half that size. The wireless monitor is currently powered by a small rechargeable battery. Future versions may replace the battery with an external radio-frequency charging system. The next step is to reduce the size of the device and add features to measure other health-related parameters such as temperature, blood oxygen and blood pressure.
TBIOM Crowdfunds to Develop 'Airmony' Sleep Apnea Device
The Spanish company TBIOM (Técnicas Biomédicas para la Salud) has reached its crowdfunding goal to develop Airmony its new portable, light and tubeless sleep apnea device. The product pushes a continuous flow of air to help sleep apnea patients breathe and enjoy a good night's sleep. The company says that while Continuous Positive Airway Pressure (CPAP) devices already exist to treat this condition, Airmony's new CPAP device is smaller, lighter, tubeless, washable and can be used both by children and adults. The company claims that its device can run for more than two nights on a USB rechargeable battery and includes sensors for e-health monitoring, allowing both patients and their doctor to review sleep patterns. It is supported by numerous institutions, including the Estivill Sleep Foundation and ESADECreapolis.
The Future of Electronics in The Medical Market
The medical electronics market is going from strength to strength and according to one recent study could reach $4.2billion by 2026. Rising standards of living and aspirations towards a healthier lifestyle are all factors driving the adoption of wearable electronic medical devices. However, the ever-stricter regulatory process for product approval and high maintenance cost are acting as restraints on what would otherwise be an even more buoyant market.