'Smart door' communication that allows residents to see and hear visitors on the indoor unit's colour screen, is a fast-evolving sector within the overall booming home security market. Demand for enhanced security measures combined with advancements in wireless communication technologies have led to the development of digital door locks that can be remotely operated and monitored with applications on the user's smart-phone. Among the technologies facilitating this development are Bluetooth, Z-wave/ZigBee, Wi-Fi, and near-field communication (NFC). The decline in the prices of cloud infrastructure and mobile broadband is an additional driver in the market. Companies involved in this space include Ring, Aiphone, Legrand, Panasonic, Honeywell, Skybell, Kivos, Guangdong Roule Electronics and Advante.


Bird Home Automation Launches New IP Video Indoor Station
In July, Bird Home Automation GmbH the Berlin door-phone manufacturer presented its first multi-functional 'DoorBird' IP video indoor station for the German and Austrian markets. The A1101 compact indoor station was designed for single and multi-family houses as well as offices. It can be connected to all 'DoorBird' IP video door intercoms from the Berlin-based manufacturer and integrated into various home and building automation systems. The company explained, "When someone rings the door, the residents see the visitor on the indoor unit's colour screen, and can hear and speak with him. More than 50 ringtones are available for door and floor calls. In the visitor history, images are automatically saved in HD quality. With a tap, the resident can open the door or call the elevator." 'DoorBird' can be operated via Power over Ethernet, WLAN or LAN. The settings can be easily implemented remotely via a smart-phone.
Axis Communications Launches New Door Surveillance Systems
Axis Communications AB, the Swedish manufacturer of network cameras for the physical security and video surveillance industries, has announced the launch of a raft of new products. They include two new camera models – a multidirectional IR camera and heavy-duty PTZ camera – and also a network audio amplifier and network video door station. The Axis Q6215-LE heavy-duty PTZ was developed in response to demand for heavy-duty PTZ cameras with built-in IR illumination. The network PTZ is said to achieve exceptional video quality at up to 1,300 ft, including in low light or complete darkness. This is achieved courtesy of long-range OptimizedIR technology, alongside IR LEDs, that adjusts to the camera's zoom. Axis' A8207-VE Network Video Door Station, meanwhile, combines access control, two-way audio and a 6MP security camera in a single device and promises to reduce the number of devices installed at the door. Axis says it easily integrates with video management, access control, and VoIP communications. The Axis P3719-PLE multidirectional camera is designed for outdoor use and according to Axis, is capable of "performing the job of four cameras." Axis Lightfinder technology, WDR and 360-degree IR illumination combine to capture images with exceptional sharpness and clarity regardless of lighting conditions.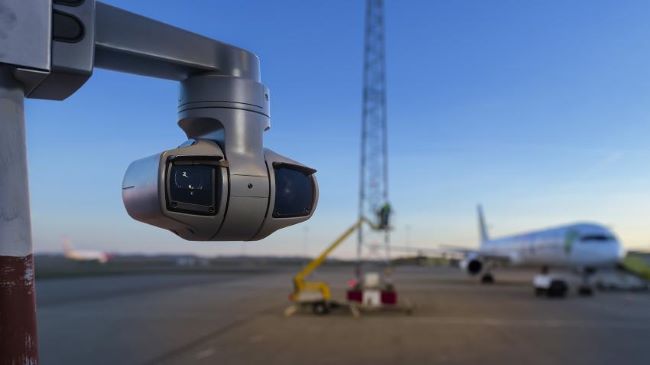 Credit: Axis Communications
Axis Communications has launched AXIS Q6215-LE PTZ Network Camera  
Maximus 'Answer DualCam' Video Doorbell
The San Francisco based company Maximus has launched its 'Answer DualCam' Video Doorbell, a device which the company claims is the smart home industry's "first doorbell with two cameras" to provide maximum coverage. The camera has a 180-degree field of view and a range of 30 feet that includes white LED night vision with six high-power infrared LEDs. The top cam is a 1080p high-definition camera to let homeowners see people's faces and everything at the door. Maximum has also augmented that with a second 720p bottom camera that completely obliterates blind spots.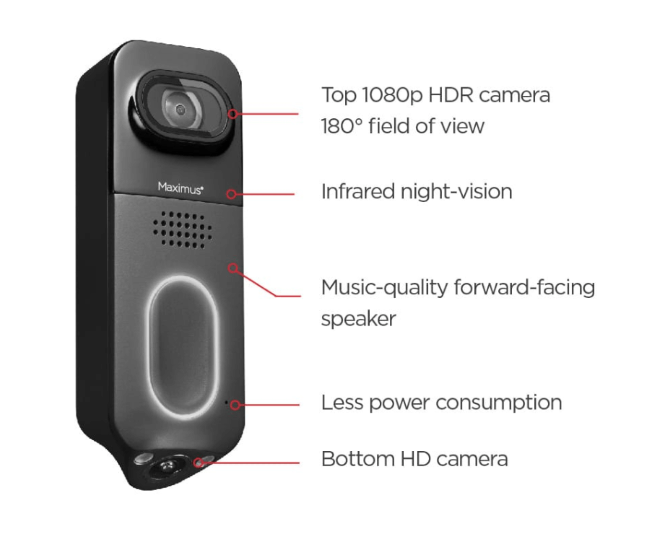 Credit: Maximus Lighting
Mark Honeycutt, CEO of Maximus explained in a release. "On numerous occasions, we heard the same complaint surrounding traditional smart doorbells: they weren't capturing everything at the front door, including people and packages, so it completely eliminated their purpose if something was stolen or damaged. 'Answer' addresses these concerns and provides an affordable, easy-to-use solution that gives homeowners the best field-of-view yet." The smart home doorbell is powered by Ambarella's high-resolution quad-core S5L-4K chip. The software is provided by partner company Kuna, which also provides the app that users need to see and speak to visitors, receive push notifications, sound an alarm, or even dial 911 in the event of an emergency.